You can view and RSVP for upcoming events and other invitations on your Dashboard by following these steps:
1. When you first login to Prolaera you will land on your Dashboard. To return here if you are elsewhere in the system, simply select My Dashboard > Overview from the left-hand navigation menu.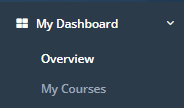 2. Scroll down and look for a panel on the right-hand side of the page titled My Event Invitations.

3. Once there, simply locate the event you're looking to attend and click on the title to view event details.
4. On the event profile page, click the Register button to confirm your registration. You will then receive a confirmation email with details to add to your calendar.