Creating an event - or a program - in Prolaera is a two-step task. First, you will want to create a Parent Course in the Author section. This will serve as a "blueprint" for any event you may want to create in the future, based on the type of delivery method. Second, you will create the scheduled Event and send registration invites.
This article covers the following components of scheduling an event:
Creating an Event
Sending Invitations & Registration
Post-Event Wrap Up
Create an Event
1. Under your Admin panel, click Event Manager then Create Event at the top right corner of the page.

2. A drop-down menu will appear. Select Group-Live to view your existing courses.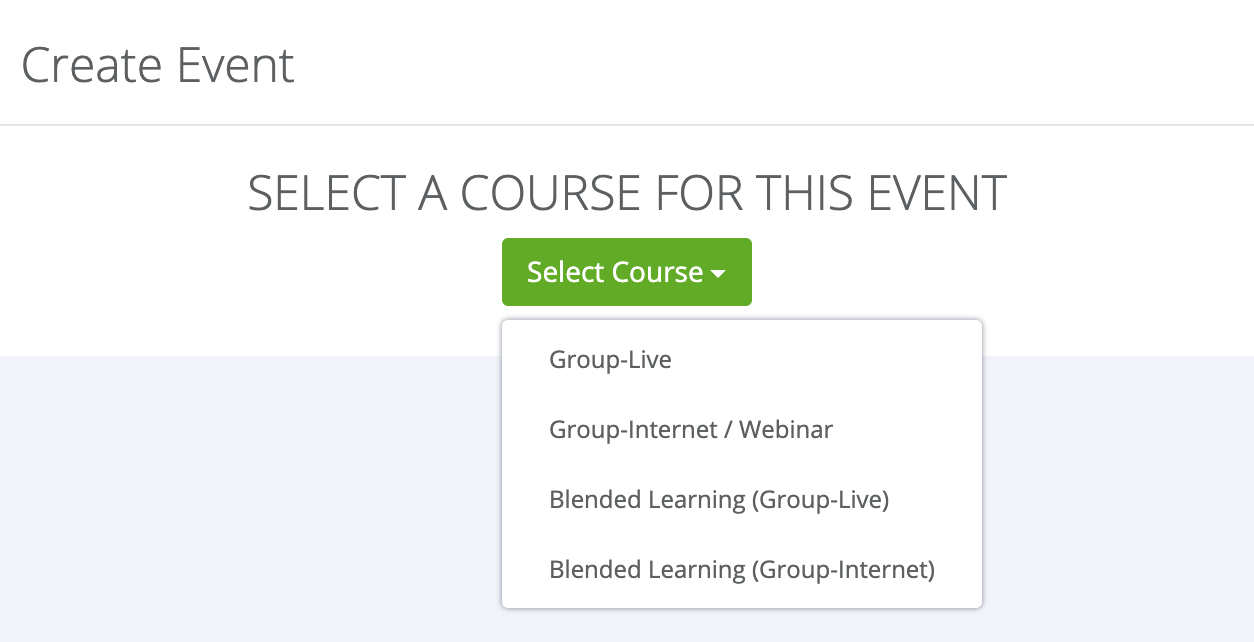 3. Search for the course you'd like to use for this event and click Select.
TIP: Don't see the course you're looking for? Double-check that the Delivery Method for the course is set to Group-Live or Group-Internet/Webinar and that the course is active in the Course Manager.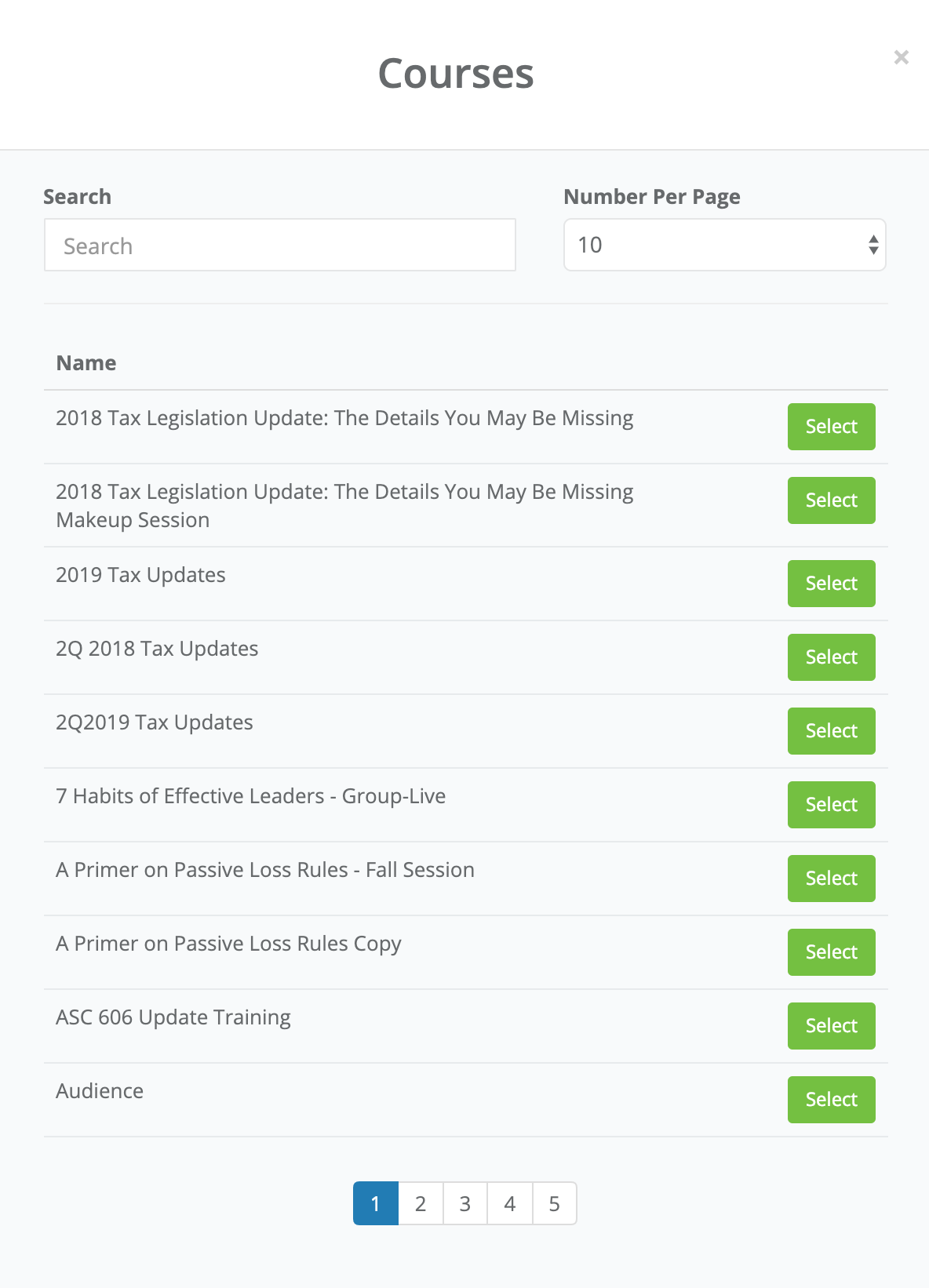 4. The course will then open, allowing you to make necessary edits or complete any missing information. The following sections will be pre-filled as the event pulls in all the information you've entered in the course editor step:
Course name
Course Author
Evaluation Template
Sponsor
Delivery Method
Course Level
Target Audience
Prerequisites
Objectives
Advance Preparation
Course Summary
Instructor(s)
Credit Information
Uploaded Materials
5. Confirm Locations and Set Up a Waitlist:
The Waitlist feature is embedded under Locations. Selecting one of the following will update waitlist settings for all the locations where the event is offered:
Automatic > Will immediately move the first waitlisted user to the registration's list when a spot becomes available. The user will receive a calendar notification.
Manual > Will allow you to move waitlisted users manually and in the order of your choice.
Off > Turning off this feature will prevent users from registering when the event is full.
Update the Primary Location where the event will be held, and include and any other locations where your users will be participating. Setting a maximum capacity will determine when registration is closed and the waitlist feature activates if enabled. The Timezone will default to your location, or you can change this in the dropdown menu.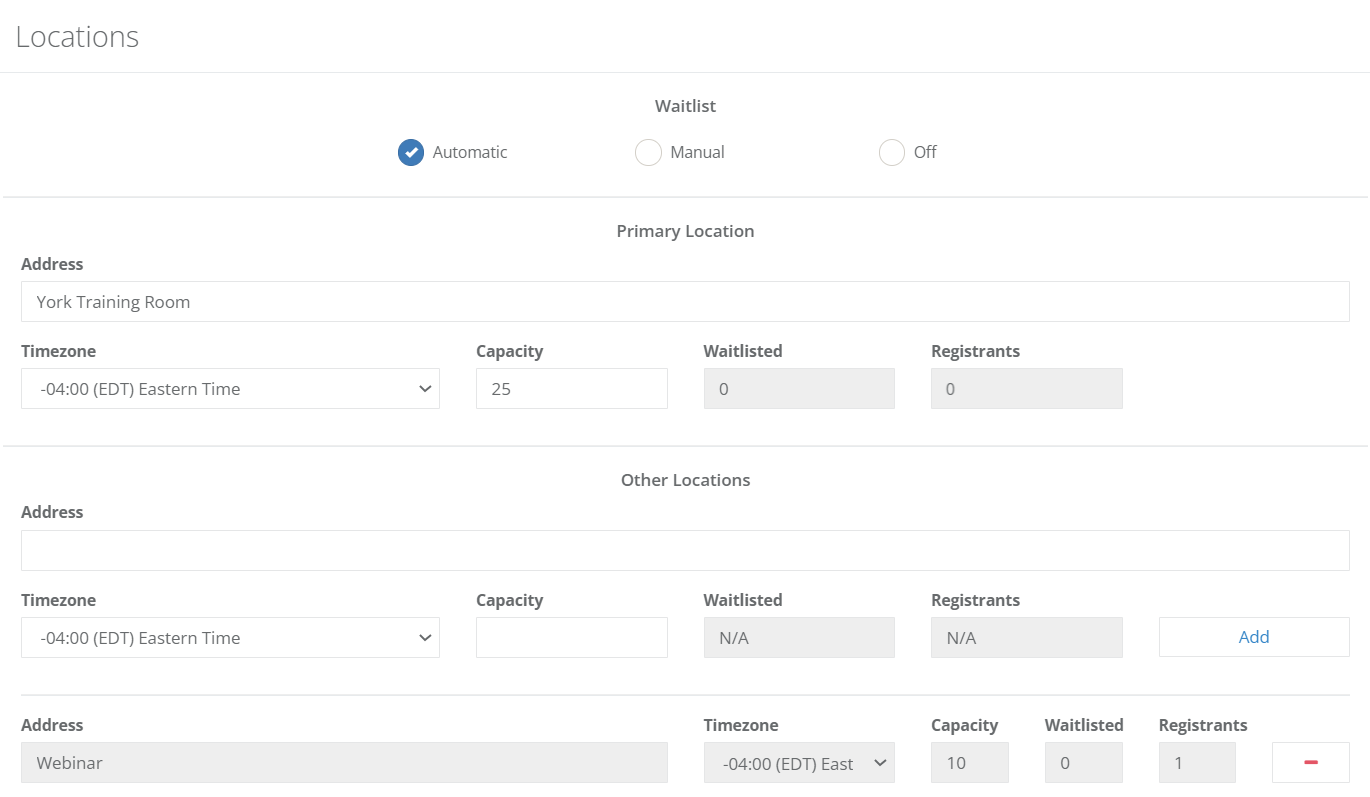 Hybrid event note: If you're adding a webinar to a Group-Live event, you must use either a GoTo, Webex, or Zoom account. Learn more here.
6. Schedule a date and time for your event.

7. Event Settings:
Event Access: Select one of the following options for your event's access:

Open Access > This will give access to other shared firms.
Firm access only > Your event will be visible to everyone in your firm. Users can see and register for this event from their Courses > Internal Training.
Invitation Only > Only users or clients with the link to the event will be able to access it and register for it.

Registration List Visibility: Select one of the following options for the visibility of the event's registration list:

All Users > All users can view the attendee list
Team Leaders > Only users with Team Leader and Admin permissions can view the attendee list.
Admins Only > Only Prolaera Admins can view the attendee list.

Invitations & Registration
Now that your event has been scheduled, you may choose to send invitation emails or directly register attendees.
Note: You may customize your event invitation and registration emails in Settings > Email Settings.
1. Inviting Attendees: There are two ways to invite attendees to an event from the Invitations tab: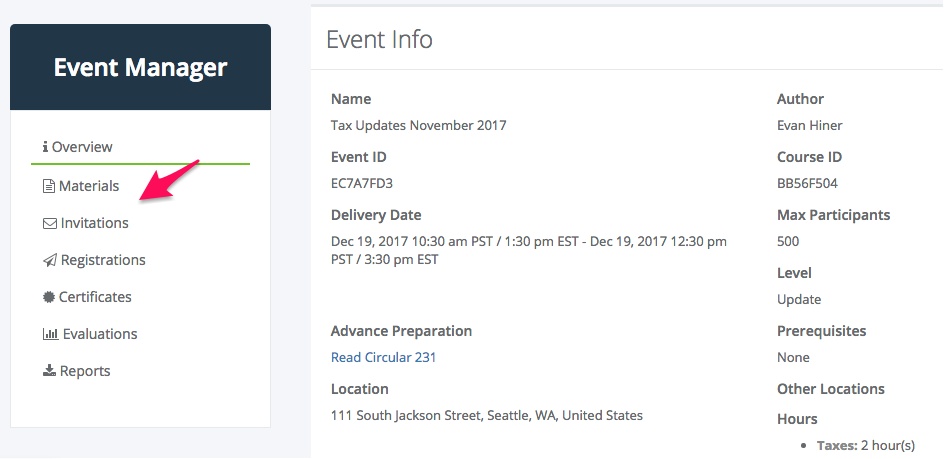 You can either select users within your account:

Click the +MyFirm button and search or filter by department, level, location, etc.
Select your users, then click Add Selected.

Or simply upload a .csv file to easily include multiple invitees.

Click Browse to locate the prepared file, then click Upload.
Invitees will then be listed on the screen.
Please note: The .csv must be in the following format with column headers: 'email', 'first', last'.

After selecting all or specific users to invite, you will see a few toggle options as outlined below. Once you have made the appropriate selections, click the button to Send Invitations. Users will be able to accept or decline the invitation right from the email.
Invite to all instances of this course > Checking this box will invite the users to all future instances of this course, in addition to this event. A benefit of this option is simpler notification to your users of a course that is offered multiple times. This invitation will allow the participants to choose which session they'd like to attend, and displays all dates and times the course is taught on the email invitation.
One-Click Registration > Checking this box will provide invitees with a link that automatically registers them for the event without signing in.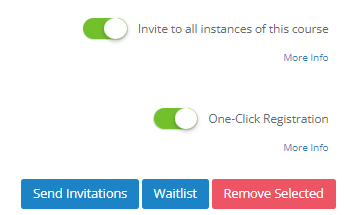 2. To directly register attendees, click Registrations on the left side menu and select your users (the same method in the invite users step above), then click Send Registrations. Registrants will then receive a calendar invitation email.
Please note: If for any reason you do not wish to send email notifications to your registrants, please check the Suppress Emails box as shown below: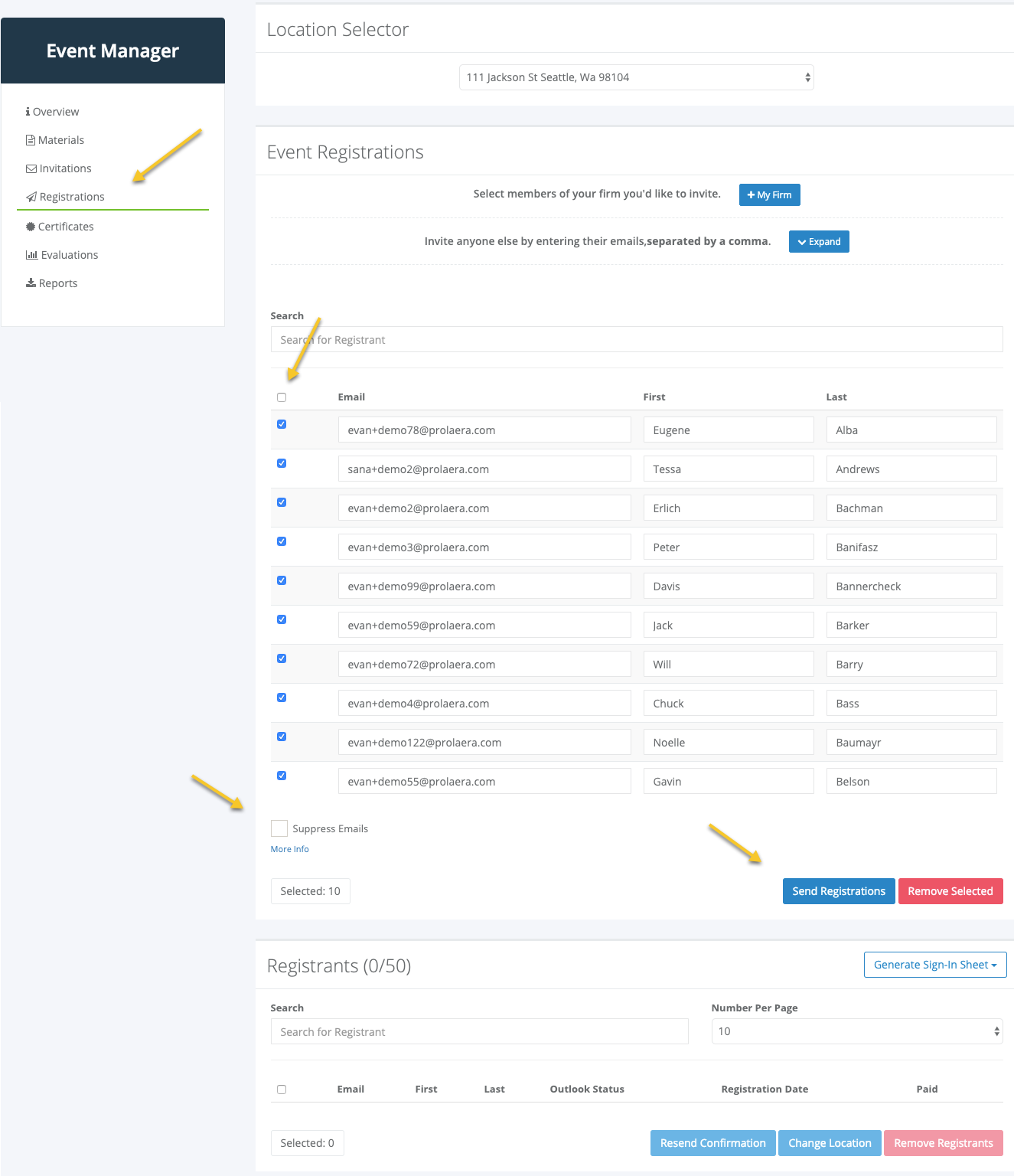 3. The registrations page is also where you may generate sign-in sheets:
Click on Registrations > Generate Sign-in-Sheet. You may then choose to view and print either a blank or a pre-filled sign-in-sheet.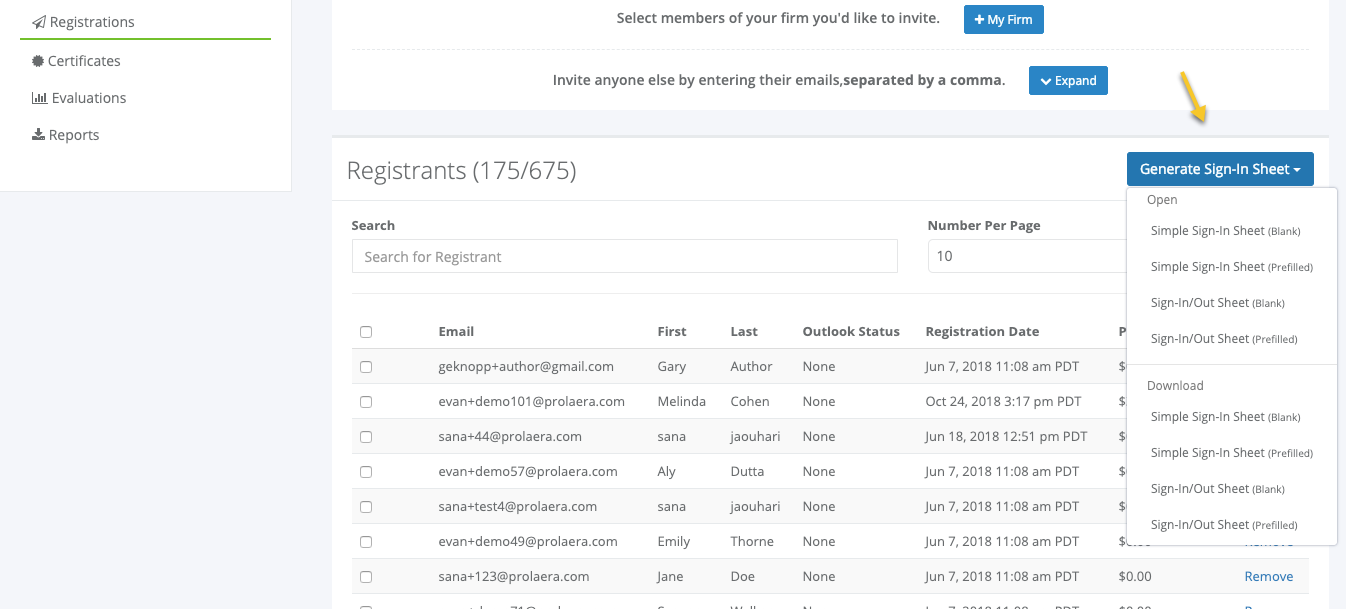 Post-Event
1. Issue certificates for a completed event. Refer to this article for instructions.
2. Send evaluations for your attendees to fill out prior to issuing credit if needed. The attendee will receive an email notification to fill out their evaluation.

3. Last but not least, you may view and download event reports. Refer to this article for instructions on event reporting.