Firm Compliance Table
1. Navigate to Admin > Firm Compliance from the left-hand navigation bar. This page shows the comprehensive overview of your firm's compliance standing, with every license in your firm and you will see employees listed multiple times if they're tracking more than one license.
2. Filter using the date range to show upcoming Compliance Deadlines between the entered dates. You can also search by employee name, license, department, and other custom fields you have created.
As shown in the example below, Austin is tracking a CFE and multiple state CPA licenses and the table shows the compliance deadline, hours remaining, and status for each. The ability to view specific licenses allows compliance leaders to manage those at risk and assign courses as needed.

Generate Reports and Assign Content
1. Similar to the User Manager, you can assign Courses and Tracks to an individual or a group of people. In addition, you may email compliance report summaries to the selected employees and download compliance reports.

2. Compliance Reports are a great way to stay on top of your firm's compliance status, and are easily exportable to share with leaders or if you're subject to an audit.
To access company reports within the Prolaera app, go to Admin > Firm Compliance. Use the panel on the left to filter the firm's active licensees by department, type of license, and the status of the user's CPE compliance. You can choose to generate reports for a particular segment of users or for all licenses.
Check the corresponding boxes to narrow your search down if needed
Click the select all checkbox
Then click the Generate Reports button that appears at the bottom of the page after making your selections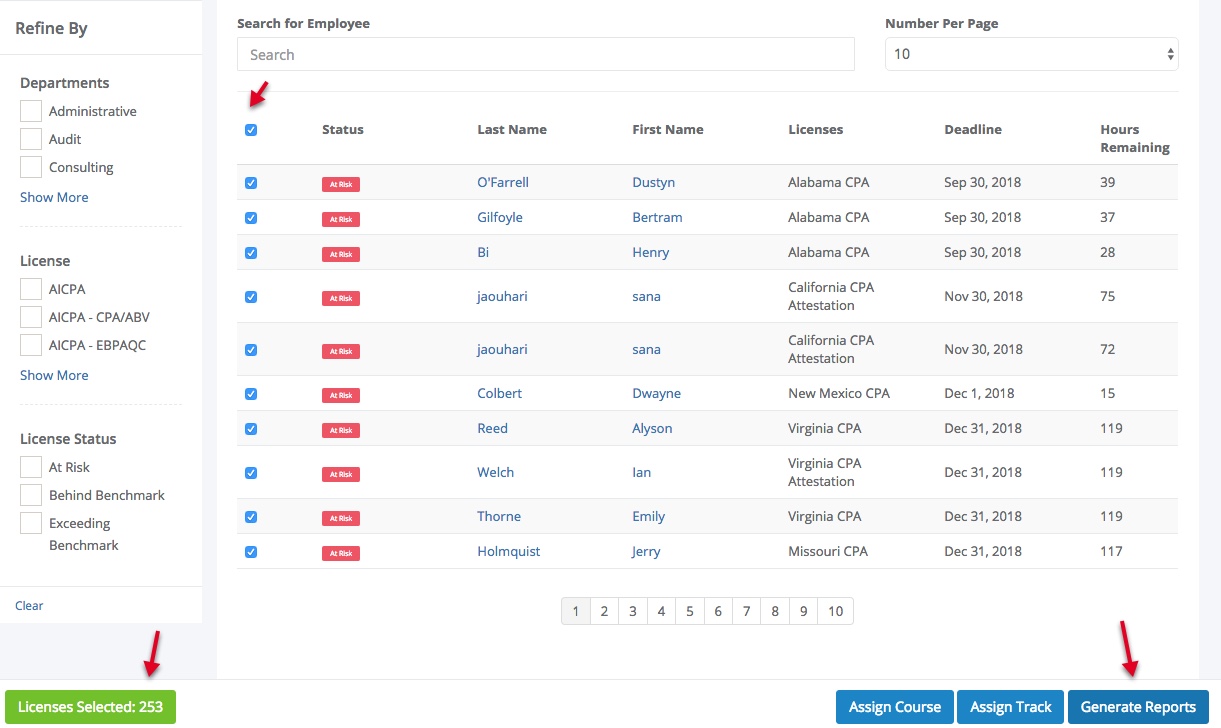 Download an Excel file of all licenses or specific licenses, in a summary format or detailed comprehensive report.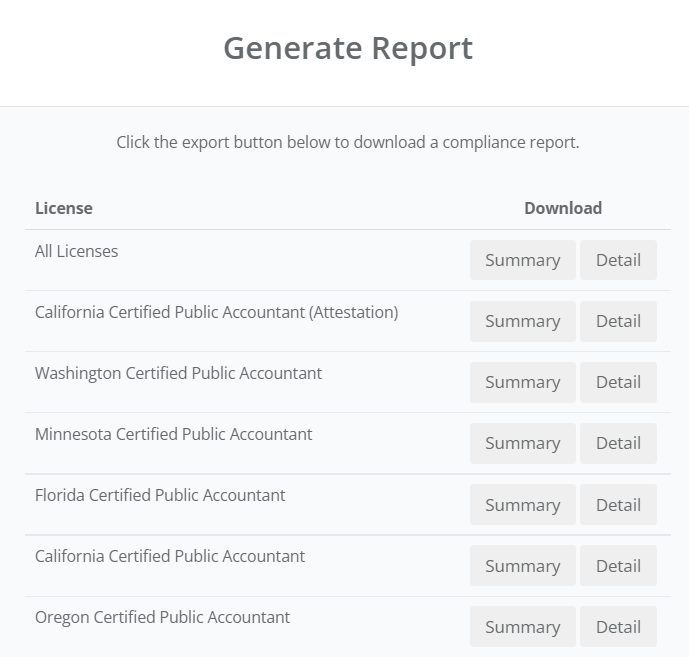 3. To get a more in-depth view of an employee's compliance standing, click on their name to see compliance status details for each license being tracked.

You may also manage compliance from the employee's profile by assigning content, adding completed training hours, and downloading reports. Refer to the articles below for more details!