Whatever your nomenclature — Learning Path, Learning Development Plan, or Learning Tracks, your employees need to have a clear track to run on. In the classical sense, a learning track is a collection of recommended or required training. In Prolaera you can easily create a learning track, assign it to your employees, and manage their progress.
Create and Publish Track
To create a new Learning Track follow these quick steps:
1. Navigate to the Admin panel on the left and click Learning Tracks then Add A Track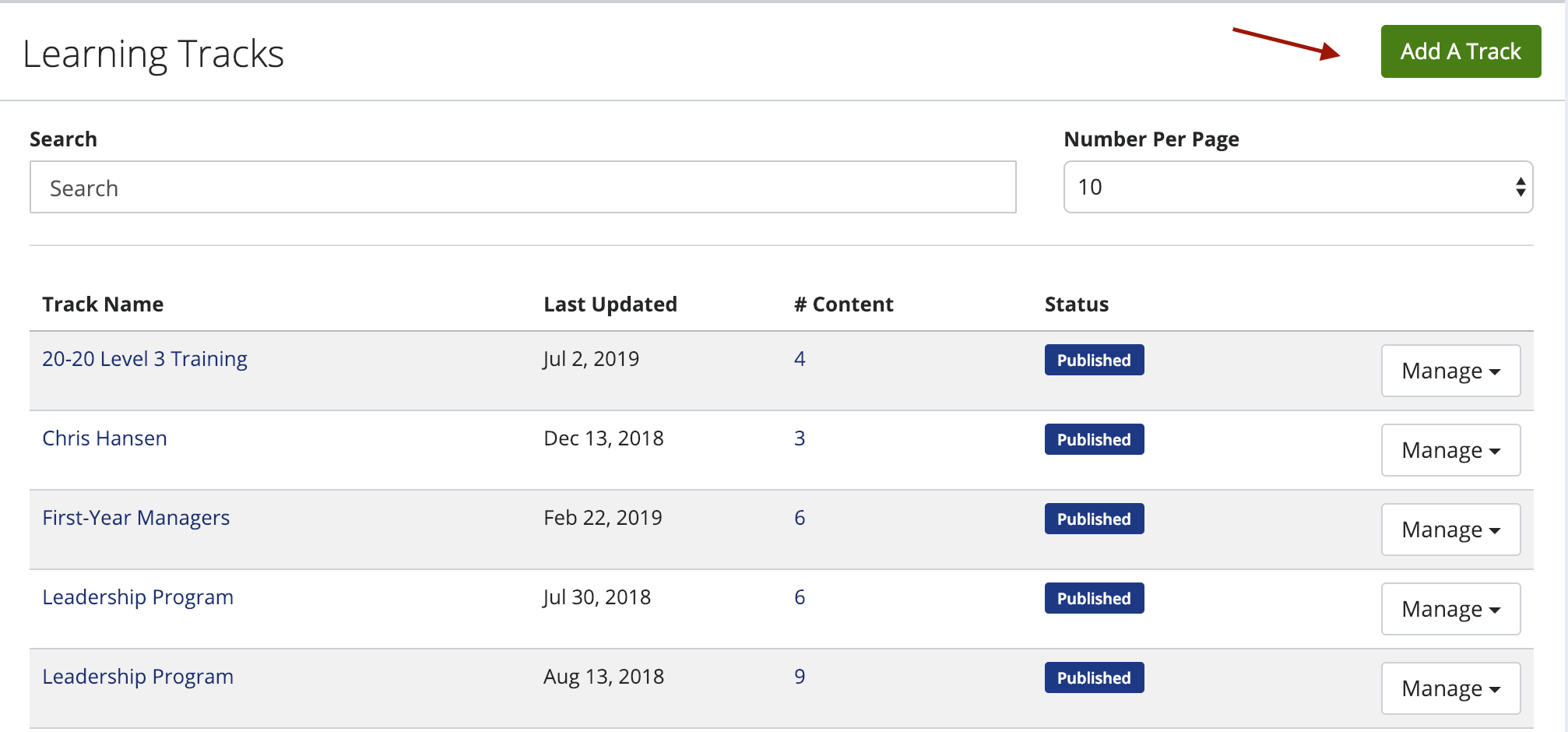 2. On the next page, fill out the learning track info and click Create. A draft will then be available in your learning track library to edit. We recommend leaving the Suppress Emails switch as-is at this point until you are ready to publish (toggled on by default).
Please note: Users added to a learning track in draft status will not receive an email notification. Please publish your learning track before adding employees to insure notification deliverability.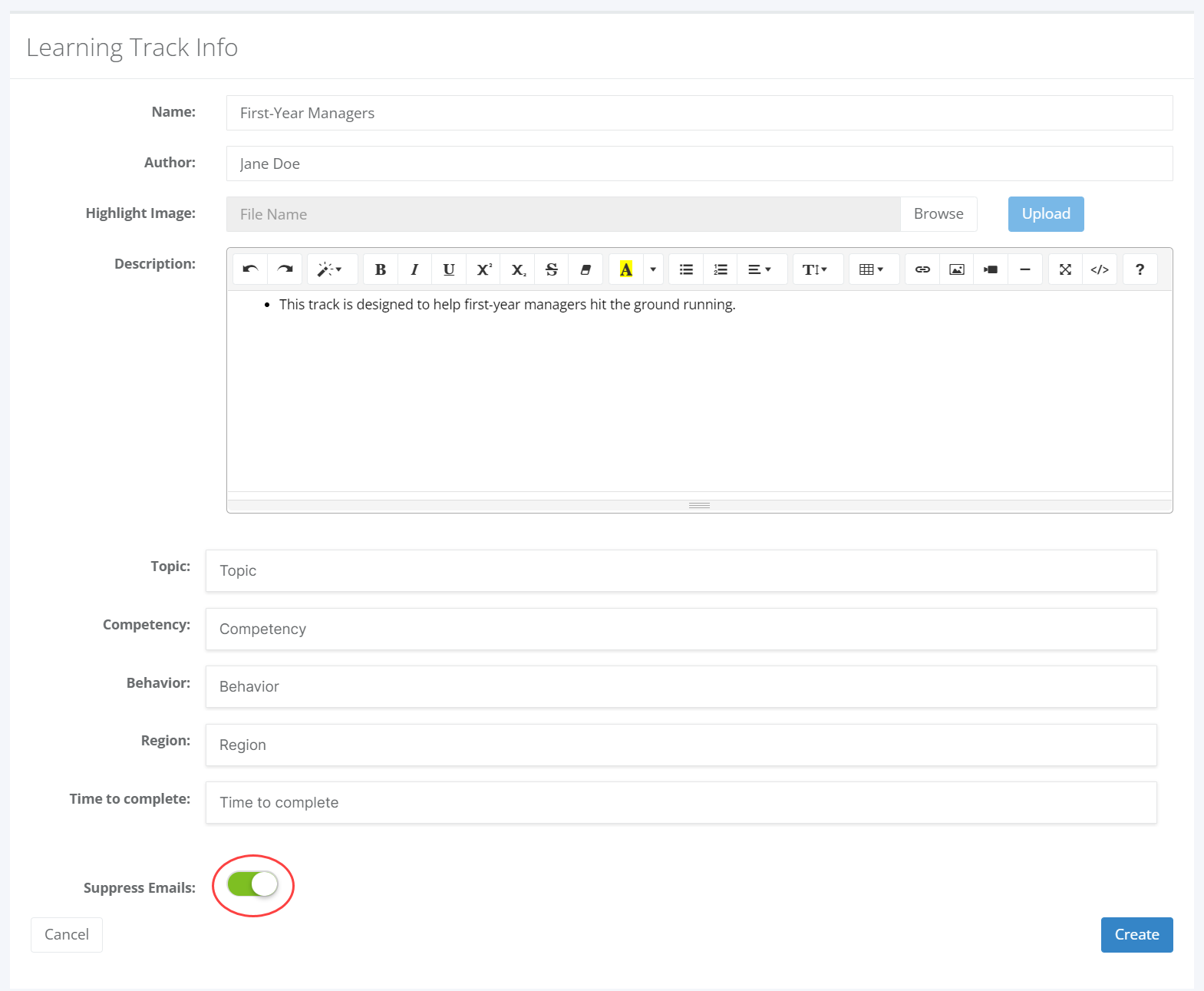 3. Click on the Content tab > Add Content to add the desired courses to your learning track. Notice, you can add any type of content available in your Prolaera course library from activity and self-study to a group-live or group-internet event, then drag the tiles up or down to change the order of your content.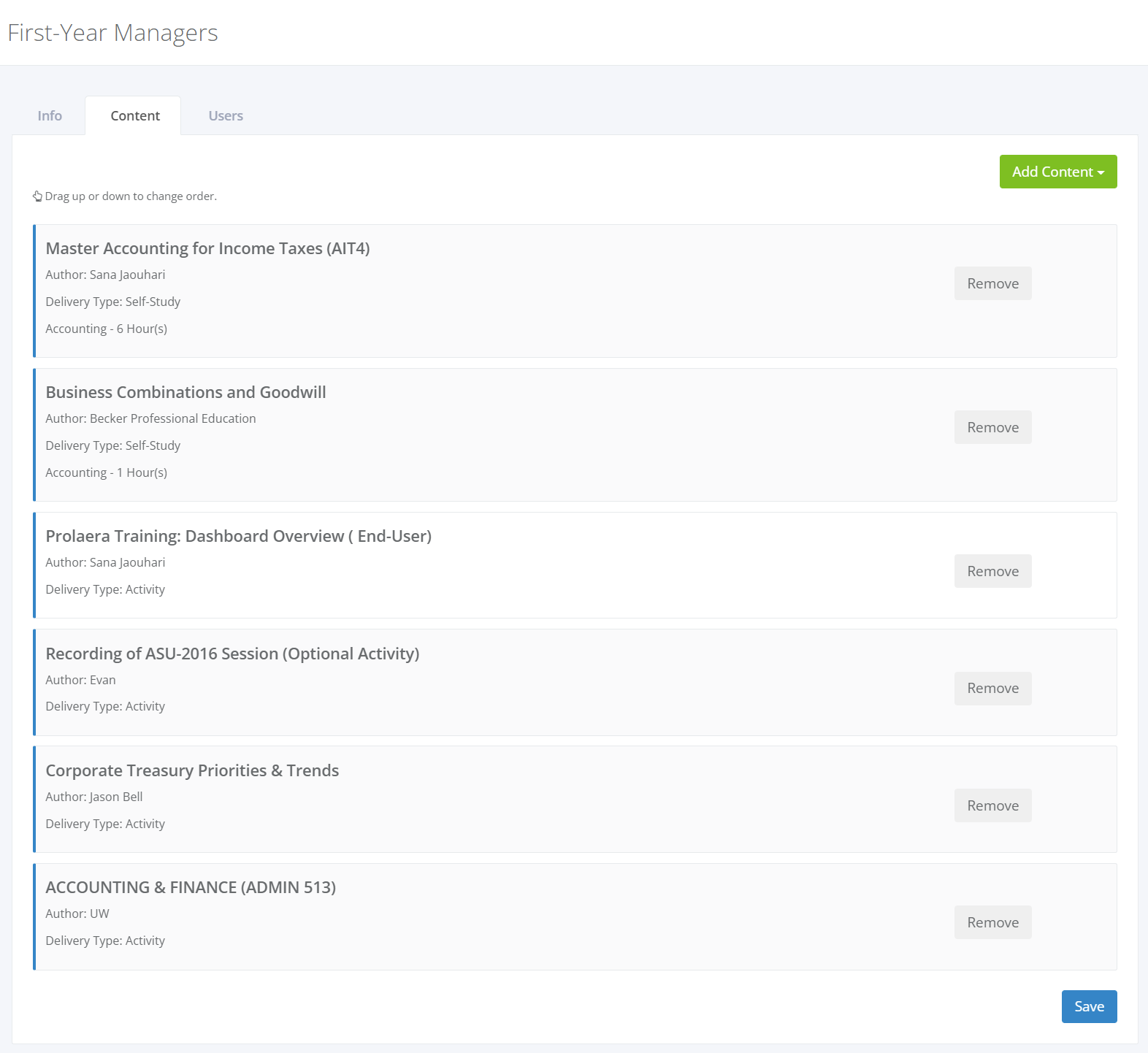 4. When you are ready to publish the learning track, feel free to switch off Suppress Emails and click Save. Navigate back to the Manage Learning Tracks page, click the drop-down to manage your learning track, and select Publish.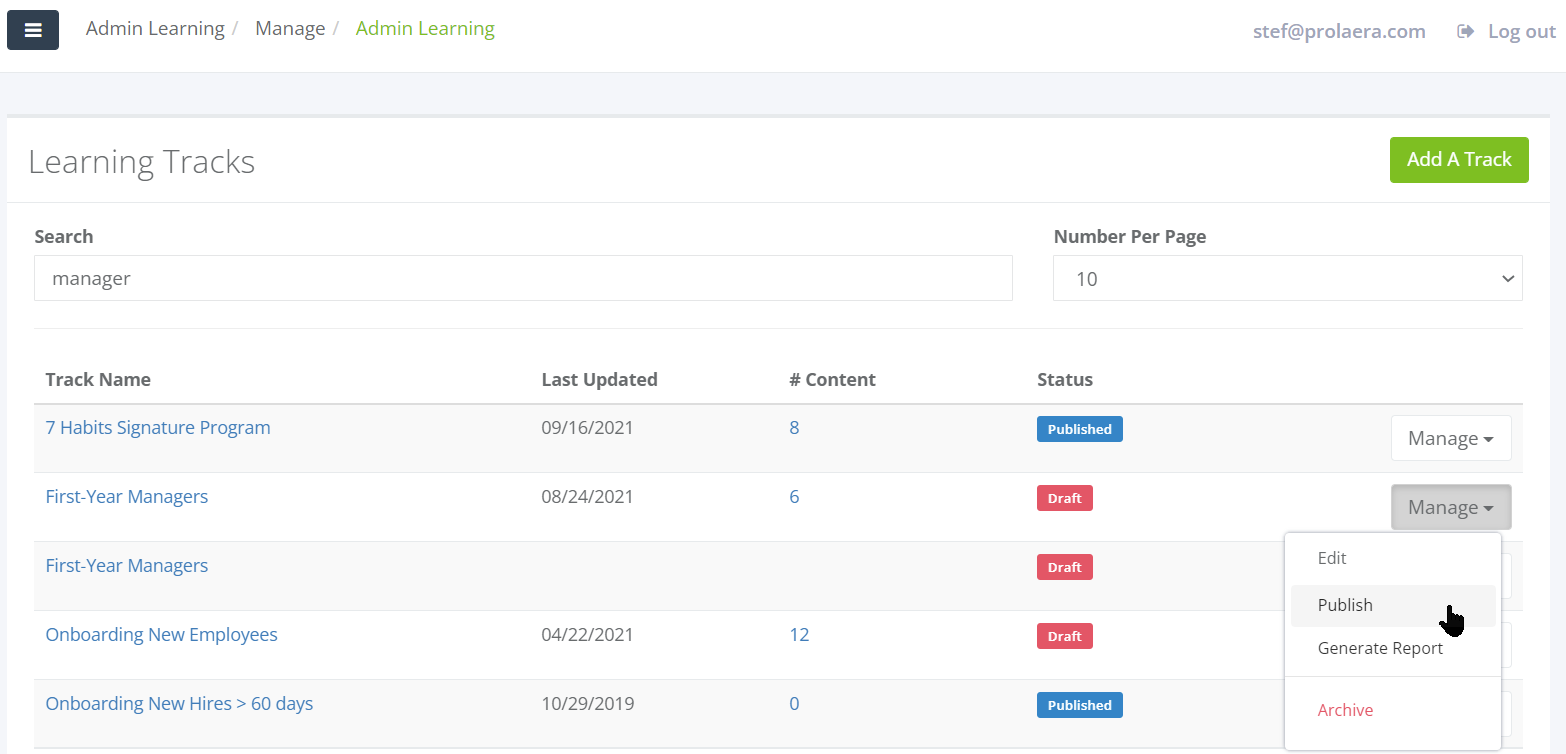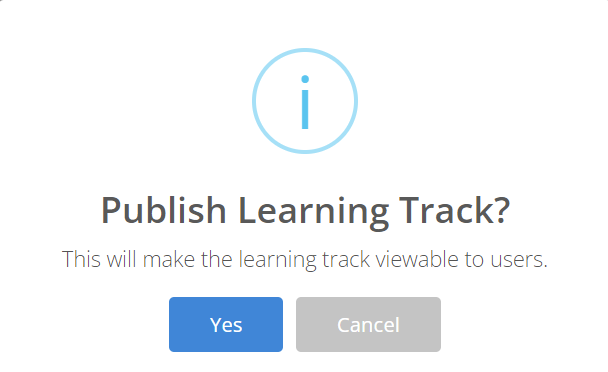 Assign and Track Progress
Once your Learning Track has been created and published, you're ready to assign it to team members. You may now also bulk-assign learning tracks by uploading a CSV file.
1. Assigning the Learning Track: Click +Users to select employees. You can search your firm by individual email or name, by department, level, location, or practice area then click Add Selected.
To assign a learning track to a group, use the Upload tool in the center of the employee selection window. The CSV column headers should be: 'email', 'due_date', and you may download an example file to fill out and upload.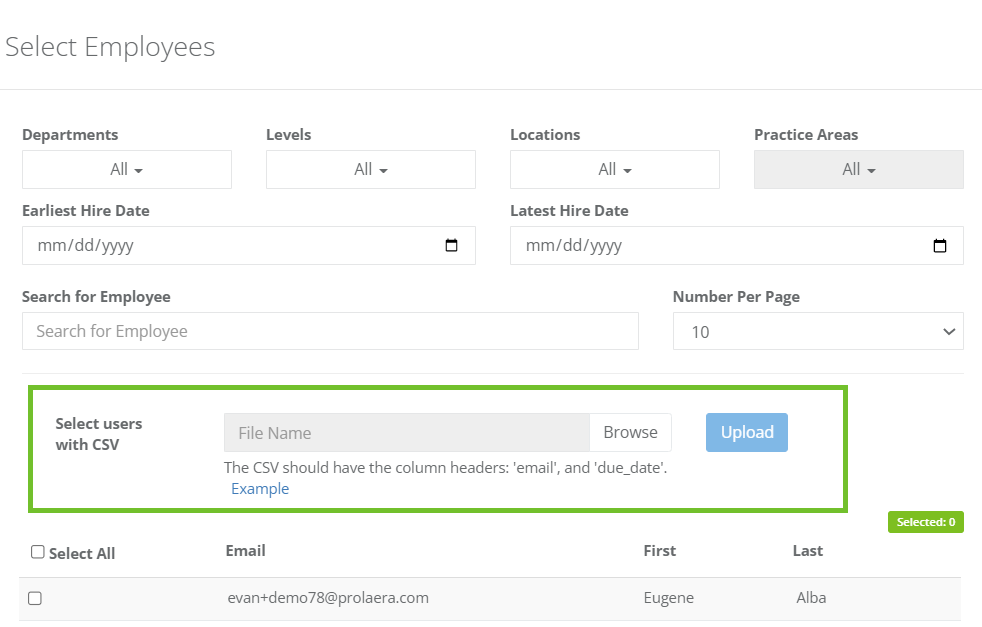 Please note: Once the selected employees have been added to a published learning track, they will automatically receive email notification of their new assignment. (See email example below.)
2. Added employees will receive an email similar to the example below: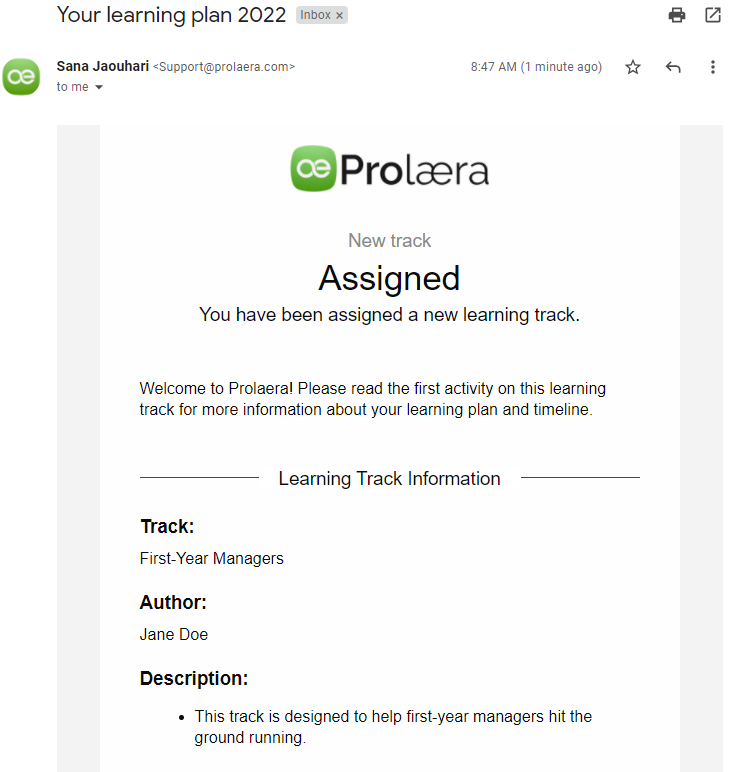 If a scheduled event is included in the Learning Track, employees will be able to select from the available dates as shown below.

You may customize the default "User Has Been Assigned a Learning Track" email in Settings > Email Settings. To learn how to further customize communication sent from Prolaera, please refer to How to Use Text Variables in Emails.
3. To track each employee's progress, navigate back to the learning track to see how they are doing on each course. Click the arrow (>) on the left side of each user to see their status on each of the courses assigned.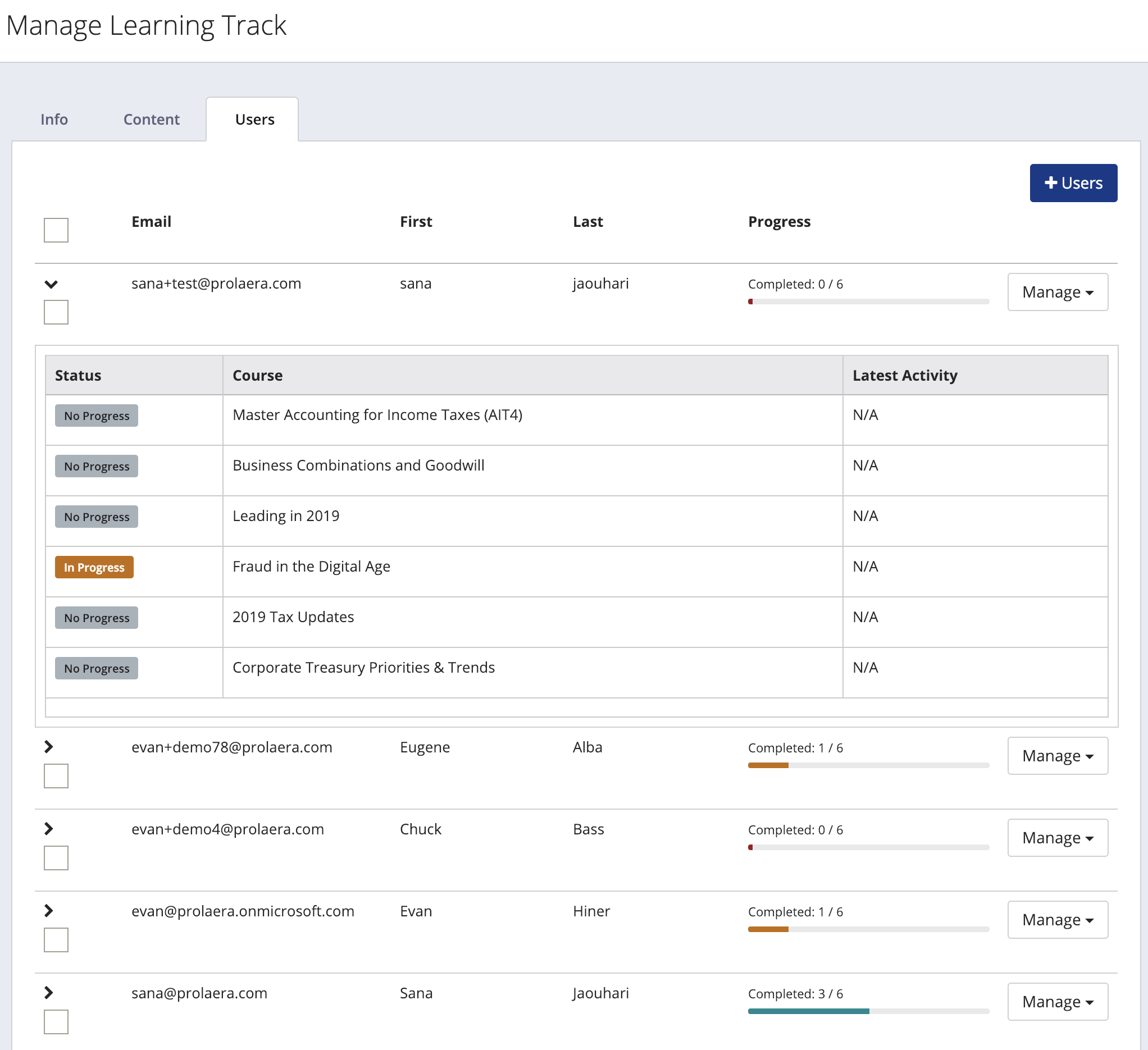 Remove a Track
If needed, you can remove a user from a learning track that no longer applies by selecting the checkbox next to the user's email address then Manage and click Remove.
In addition, you may now bulk remove selected users from a learning track. To do this, select the header checkbox, adjust the selected users as needed, and click Remove Selected (#).