The next step to setup your account is to add any licenses or certifications you'd like to track. These can include board-regulated licenses that require continuing education for renewal, as well as other designations that do not require continuing education tracking.
Board or Organization Regulated Licenses/Certifications
The Prolaera Compliance Engine contains hundreds of license rules already built-in and we only need a few pieces of information to help you start tracking your requirements. Don't have a license yet? No worries. As soon as you get it, come back and add your newly-minted license information and you'll be off to a strong start.
1. Click My Account from the left navigation menu, then select Licenses. If you have existing licenses in the system, they will be displayed here along with the Add License button on the right.

2. Check to see if your firm has any special requirements. It's a good idea to check with your Training or Compliance Manger to see if you should also be tracking specific regulators.
3. Select the industry and regulator type, then select your specific license or certification. If you're a CPA licensed in California, "CPA" will be your license type and the Regulator will be "California."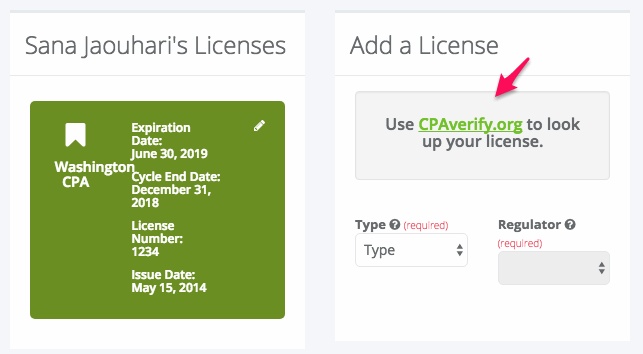 NOTE: If your state requires special CPE requirements for those performing attestation work, select "CPA – Attestation" as your regulator type.
PRO TIP: If you're a CPA, click the "https://cpaverify.org/" lookup your license information if you don't have it handy. We'll then ask for a couple extra pieces of information to allow us to precisely calculate your compliance requirements. Once those are filled in, click "Calculate CPE Date".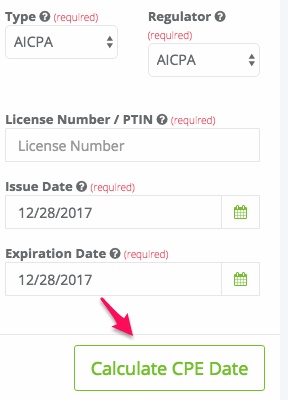 4. Next, we'll look at your Regulator's rules and make a calculation for when your CPE reporting period ends. It's important to understand that for many States & Regulators, the Expiration Date and the CPE Reporting Date are different.
The Expiration Date is when you renew your license, and the CPE Reporting Date is the last date you're able to earn CPE for your renewal.
If the date doesn't match your expected CPE reporting date, you are able to manually edit the reporting date by clicking the "Edit" button. If you've mistyped your license information, select the "Edit License Info" button.
5. Once everything looks good, simply hit the green "Add This License" button and to add it to your profile. You can repeat the process for as many licenses & certifications as you'd like to begin tracking.
Certifications with no Renewal Requirements
The Certifications section lists any other certification you may hold that doesn't have a CPE renewal requirement. For example, you may add a state society membership here for easy reference.
NOTE: These certifications will not appear in compliance reports. You may, however download a Certifications Report from the User Manager which contains all employees who have non-CPE certifications along with the applicable certification numbers.

You may always return here to add, edit, or delete licenses by navigating to My Account from the left navigation menu.