Your Dashboard Overview page is where you can find the highlights of every license you are tracking in Prolaera and the other activity in your account. By default, your compliance tracker section will show you a color-coded gauge and a graphical annual status of how you're doing in your current reporting period and you can also view your prior cycles if needed. For a more familiar layout, and depending on your preference, you can switch to a table view, which you will see below.
Compliance Tracker: Gauge View
Each gauge represents a credit category and the needed credits to meet the overall license's requirement. Hovering over the gauges will highlight the number of credits you've earned and the remaining credits are shown underneath, so you have a clear understanding of where you're standing in your timeline and how many credits you need before your next compliance deadline.

If you're tracking more than one license, toggle between them by selecting their respective tabs and you'll see the status for each requirement. Look out for these three colors:
Green: Kudos on exceeding your benchmark, you are on a great pace to avoid a "CPE crunch"!
Orange: You've fallen a bit behind and need a little more work to catch up.
Red: Your deadlines are approaching fast and you've fallen quite a bit behind where you should be in your reporting period! Head over to your course library to fill any remaining credit gaps.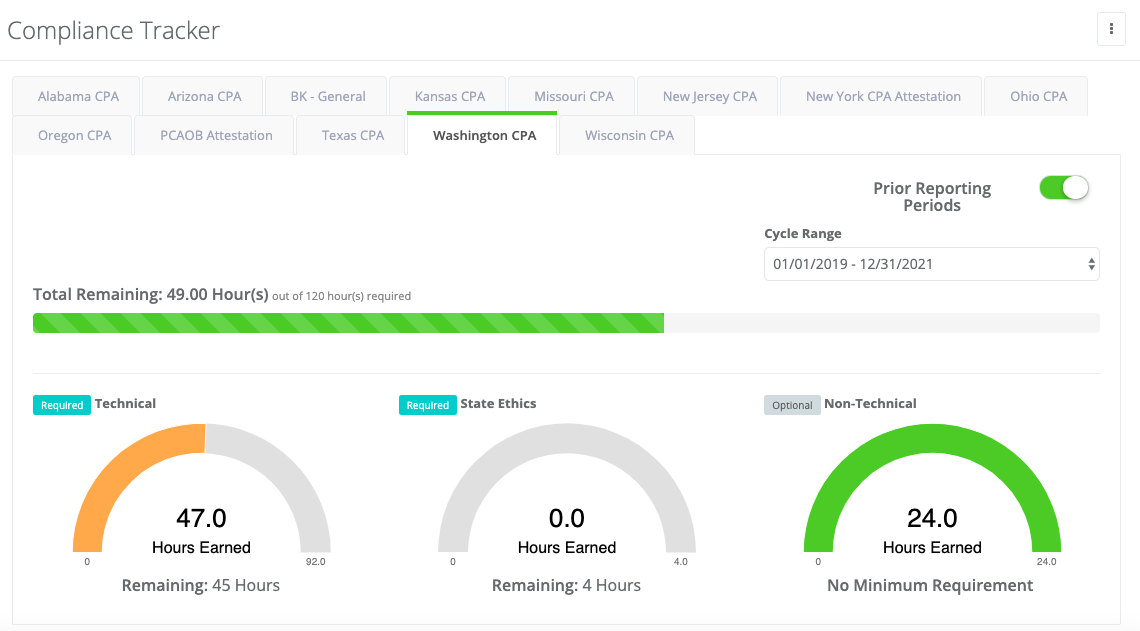 Compliance Tracker: Table View
To switch to the table view click on the "three dots" icon in the upper right of the panel to expand the view options and select "Table View".

The new layout will display the detailed breakdown of your credits earned throughout your overall current reporting period (including the option to toggle between past reporting periods), annual requirements (if applicable) and the category-specific requirements for the full reporting period. You will be shown how many of your earned credits are applying towards your total requirements and what you still need to work on to reach your goals and be compliant with your state board's deadline.
In the following example, my individual credential expires on June 30, 2022, and, subsequently, my current reporting period is from 01/01/2019 through 12/31/2021. As a CPA in the state of Washington, I'm required to report 120 hours of CPE on or before December 31st of the third calendar year with a minimum of 20 hours of CPE per year, 4 hours of Board Approved Washington State Ethics and up to 60 non-technical hours per each reporting period. So, let's see how that breakdown is displayed in my table: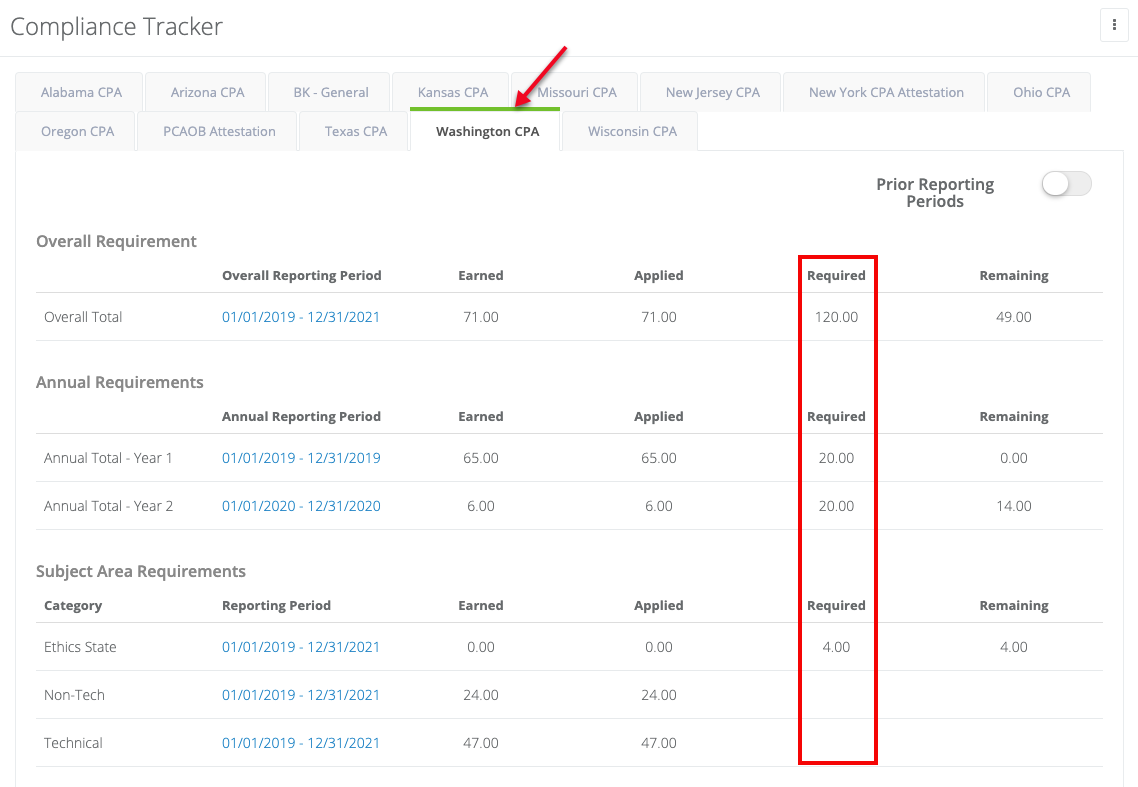 Overall, I see that I have earned 71 credits towards the 120 total hours required to be completed on or before 12/31/2021. The far right column indicates that I have 49 total hours remaining to be compliant when I renew my license. The annual requirement section below shows that I've earned 65 hours in the first year of my reporting period which is far more than what is required for the annual reporting period, so I'm feeling great about meeting my overall requirement, however, I will still need to earn a minimum of 20 hours in the current year. Again, I'm only in the first quarter of my reporting year and I've already earned 6 hours , so with a little more work, I'm feeling confident I will be meeting my requirement this year, as well.
Moving down to my Subject Area requirements, I have earned 47 hours in the technical field and 24 hours in the non-technical one. The Prolaera system knows that I have a limitation of how many non-technical credits I can earn through this reporting period, so if I ever reach 60 hours of non-technical credits, it will apply the 60 hours toward my reporting period and every non-technical credit earned thereafter will show as earned but not applied, leaving the rest of the credits gap to be satisfied by any other technical courses I take moving forward (in this example, if I max out my non-technical credit allowance, the remaining hours must be satisfied by at least 56 Technical credits and the required 4 State Ethics credits).
I hope this example helps you quickly discern your license requirements and where you're at in your reporting period so you can focus on earning your hours and doing great work.
Course-related activities
1. Below you'll find your self-study courses progress. This section is where you can quickly go back to the latest course you've been chipping away at without having to navigate to your library.

2. Your learning track is a collection of recommended or required training your admin or mentor may assign to you. Here, you'll find your current assigned learning tracks listed along with your progress. Click on the highlighted track to view more details or resume your courses.
3. Assigned Course Progress
This section will list all the individually assigned courses. Click on the highlighted course to view more details or resume your course.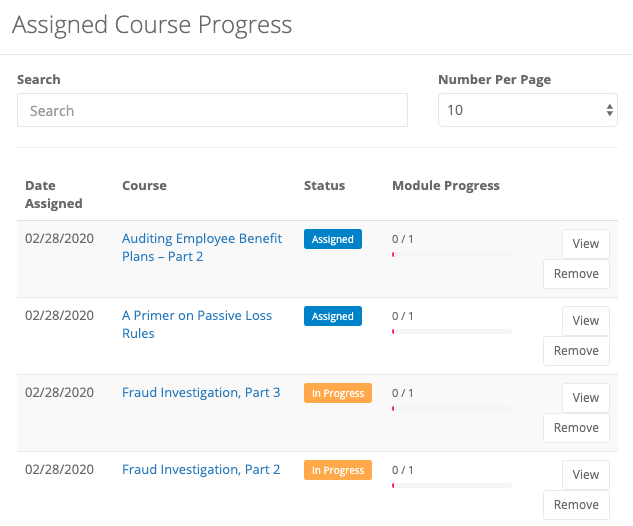 4. On the right side of the dashboard, we'll see details for live events. If you have been invited, registered, or have registered yourself for a Group-live class or Group-internet webinar, these will be displayed as events. Here, you'll see a timeline of all upcoming event invitations and registrations. If an event is full, you will be added to the Waitlist until a seat opens up.
When registered for an event, a calendar appointment will be emailed to you with all the up-to-date information. Click on the highlighted courses to view more details.

5. After each course completion, you'll receive an email with a link to your certificate and an evaluation form to fill out. There are a couple other ways you can access these evaluations:
Here at the bottom of the Dashboard Overview page you'll find the "Incomplete Evaluations" list that includes every course that still awaits your feedback. Click "Evaluate" to proceed.

From your left navigation bar, click My Dashboard > My Courses > Events, then Past Events. On this page you'll find a list of all your past events. Click the evaluation button next to your completed course to proceed. Note: The evaluation button will only be clickable if the course has been completed.