All of your personal learning content and activity is contained within My Courses in the Dashboard dropdown menu. This may include the following content, whether assigned, in-progress, or completed:
Learning Tracks
Courses
Events
Activities

Learning Tracks
Learning Tracks are collections of content which are bundled to focus on a targeted skill, level, and/or compliance requirement.
These tracks can be made up of self-study courses, webinars, activities, and in-person or virtual events, and are intended to build upon one another as you progress through. A learning track may be assigned to you as part of your career development or to meet mandatory training requirements.
Here you can view track details and continue through the plan.
Please note that even though the course may appear in your learning track it may not necessarily mean you've been registered. Please make sure to click "View" then "register" if needed.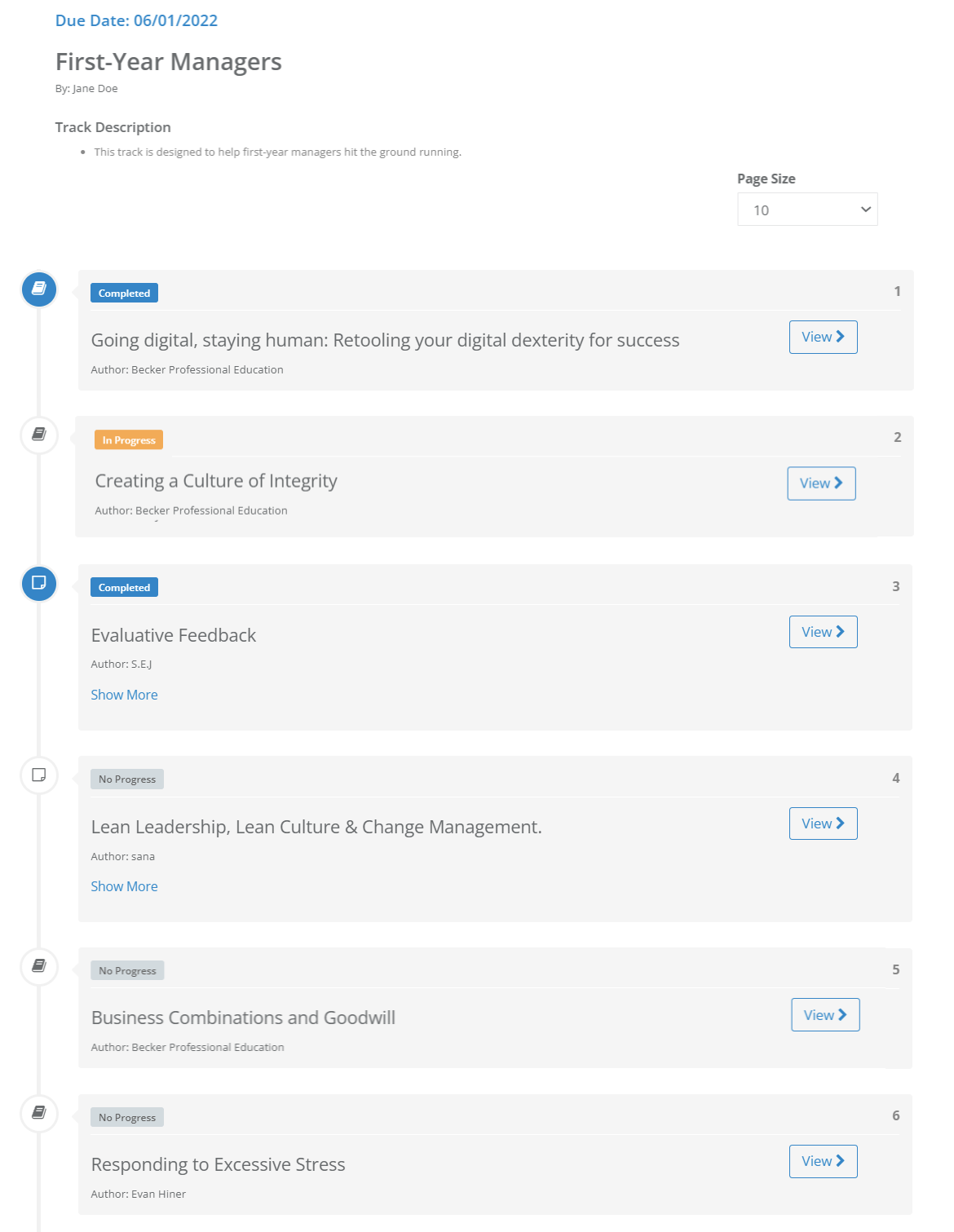 Courses
The Courses section contains your personal self-study library of individual courses. Courses that have been assigned to you are listed in the first tab, and all other courses you've purchased or started in the second tab.
Similar to the dashboard, you can begin or continue course progress here.
You may add to your library by browsing the company course list
For each course that is successfully reviewed and passed, you will earn a certificate of completion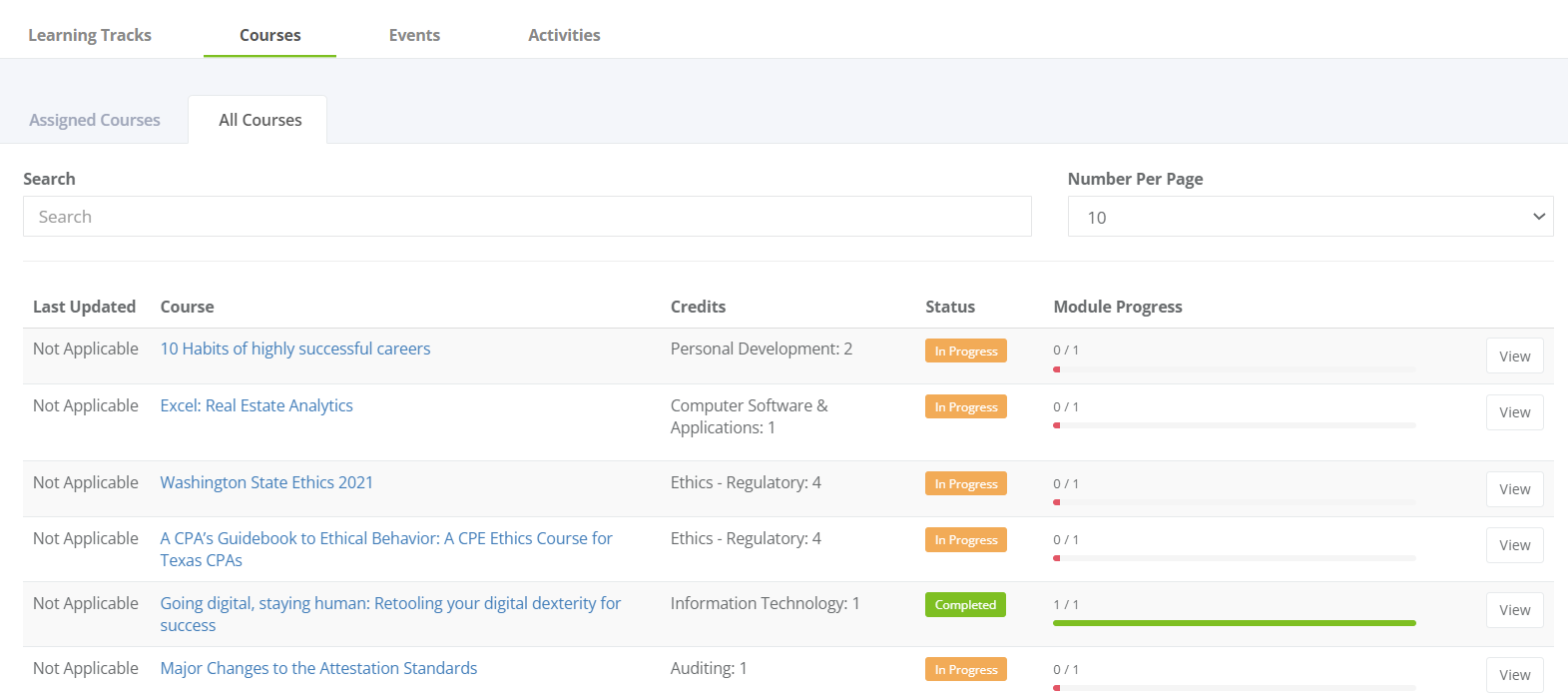 Events
The Events page will list the live scheduled classes, such as in-person seminars or webinars, that you've registered for or have been assigned. These events may be sponsored by your company or by a vendor, such as Becker or Surgent.
From the past events tab you'll be able to revisit the event page and view all attached materials.
You might be wondering what the status colors mean:

"Registered" simply means you've registered or have been registered for an event.

"Waitlisted" means you have been added to the waitlist due to capacity restrictions.

"Completed" means the course is finished and you may send in your feedback using Evaluate.

"Reviewed" will appear when you've completed your course and filled out the evaluation form.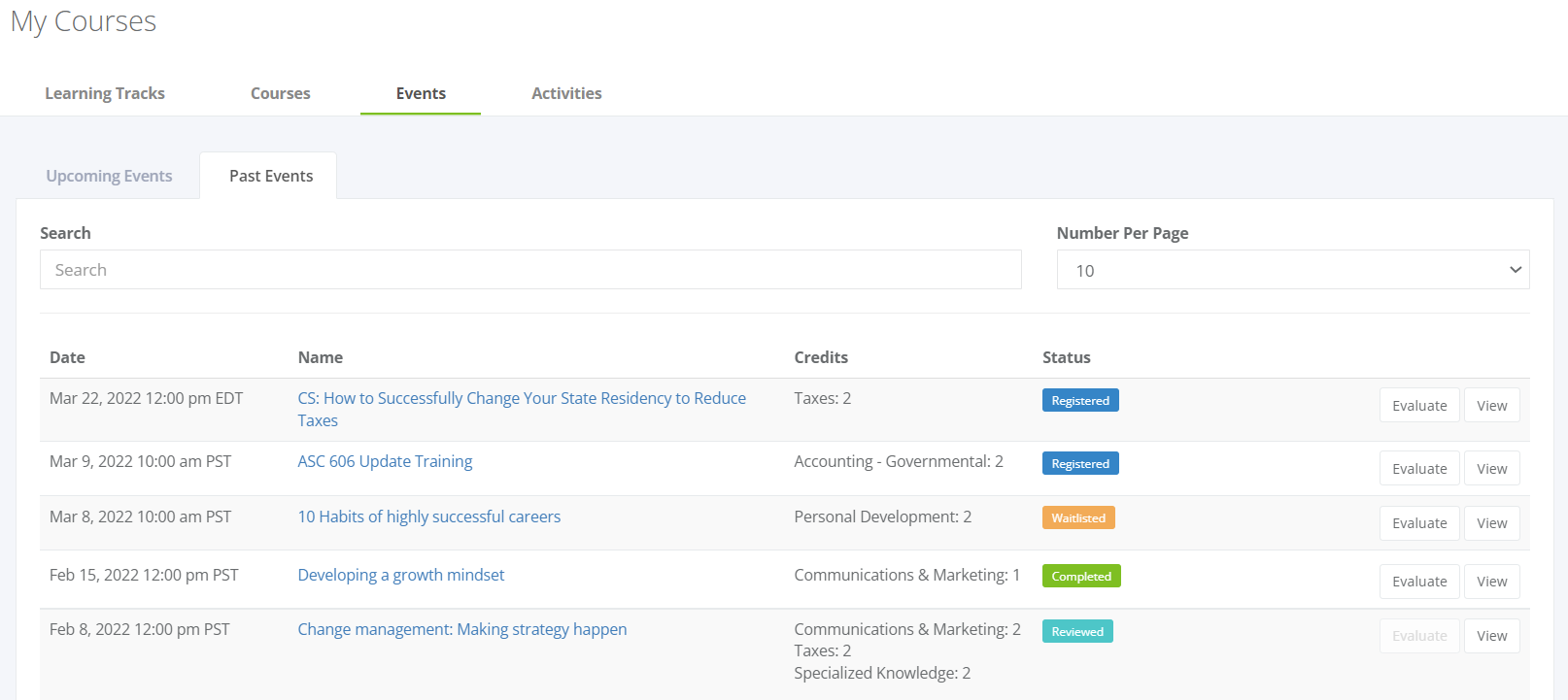 Activities
Activities are informal learning content that aren't intended for CPE credit. For example, this could be an employee handbook, video instructions to setup a printer, or easy to reference department processes. Activities may be completed by answering a quiz or selecting "Completed" to indicate you've viewed the content.