Compliance Reports are a great way to stay on top of your firm's compliance status, and are easily exportable to share with leaders or if you're subject to an audit. Compliance Report Emails are an easy way to keep your licensed users updated with their status.
Compliance Reports
To access company reports within the Prolaera app, go to Admin > Firm Compliance. Use the panel on the left to filter the firm's active licensees by department, type of license, and the status of the user's CPE compliance. You can choose to generate reports for a particular segment of users or for all licenses.
1. Check the corresponding boxes to narrow your search down if needed
2. Click the select all checkbox
3. Then click the Generate Reports button that appears at the bottom of the page after making your selections 4. Download an Excel file of all licenses or specific licenses, in a summary format or detailed comprehensive report.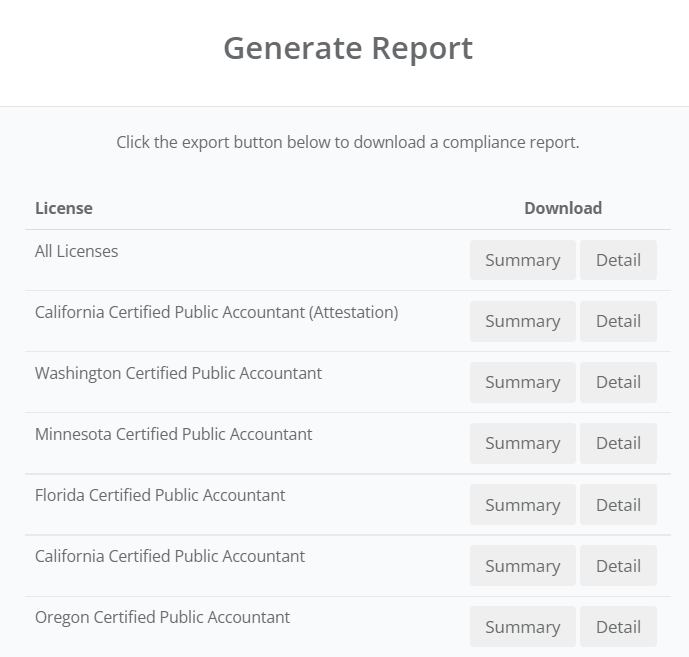 Here is a sample showing the Summary report columns, with further descriptions of these fields below:

First Name, Last Name: The user's full name.

Email: The user's email address.

Practice Area: The user's industry specialization (Not-for-profit)

Department: The user's department within the firm (Audit)

Level: The user's level or title within your firm (Manager)

Location: The user's location if your firm operates in multiple locations and cities

Custom Fields, Employee ID,

Hire Date

: Dependent on your company's settings

Profile Status

License: The user's state board issued license or association issued certifications

License Number: Identifying number

Issue date: The date the license was first issued

Renewal date: The license expiration date

Reporting Start Date: The first day when the licensee has to start recording CPE credit earned toward the reporting period.

Reporting End Date: The last date the licensee can earn and report CPE credit for this reporting period.

Total Hours Applied: The total of the hours earned in the selected reporting period.

Hours Required: The total hours to be reported for the selected reporting period.

Hours Remaining: The total hours remaining to be compliant for the selected reporting period.

Special Requirements: These requirements could be met in a different reporting period but will qualify for this cycle as it overlaps.

Compliant: Yes or No
Compliance Report Emails
You may want to schedule or manually send compliance report emails to notify licensed users in your firm. To schedule the emails, head to your company Settings > Email Settings, then choose between Monthly or Quarterly and click Submit.

To manually send compliance report emails to your users, first head to Admin > Firm Compliance. Filter or search for specific users, or select all and click the Email Compliance Reports button at the bottom right.
Compliance Report generation GIF: