If you have started using Prolaera and would like to add your users, you can invite them to join you in your Prolaera company account at any time.
Please note: This action is only available to Admin Users.
Adding a User to Prolaera
Go to Settings > Users. From here, you can add users to your account by entering their email, first and last name and clicking the Add button found on the right side of the screen.
Alternatively, you may upload a CSV file complete with your users' email addresses, first names, and last names, using the CSV template download just below. This option is especially helpful when a large group of users joins your firm, such as a new hire orientation for example.
Once all your new users have been added, select all and click the Create User(s) button to create the new users in your account.
You can add as many users at the same time or in the future.

Inviting your Users
Now that you've created your users you can go ahead and invite them to login as shown below. You may resend the invitation to your users at any time - just note that they will now be listed in the Users section, which is last section of this page.

How will my invited users be notified?
If your invited users have never used Prolaera before, they will receive an invitation email from Prolaera (support@prolaera.com), as shown in the image below. This email contains a link to sign into the company Prolaera account after they have set up a password.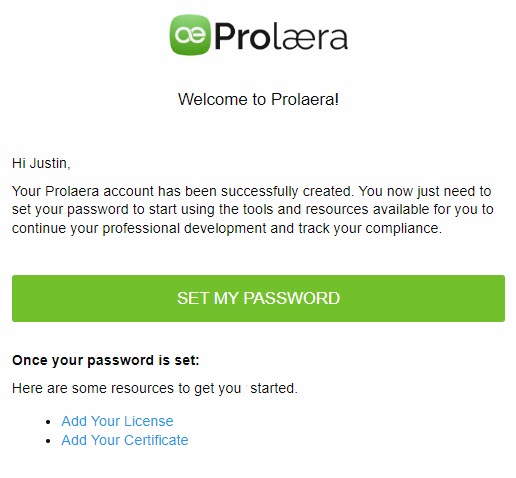 If your company has single sign-on enabled, the process will be a little different. After clicking to set a password in the invite email, your users are taken to a branded login screen to sign in with the firm credentials.

Note: If your invited users have individually signed up for Prolaera before, please contact us at support@prolaera.com to merge their accounts.
Adding and inviting your users GIF: