Follow these quick steps to add hours from an external certificate of completion on behalf of your team member:
1. Under "Admin" > "User Manager" click on the user's highlighted name or email to access their account

2. Head to the user's Certificates tab and select the green "Add Hours" button in the top right hand corner of the page to open the form.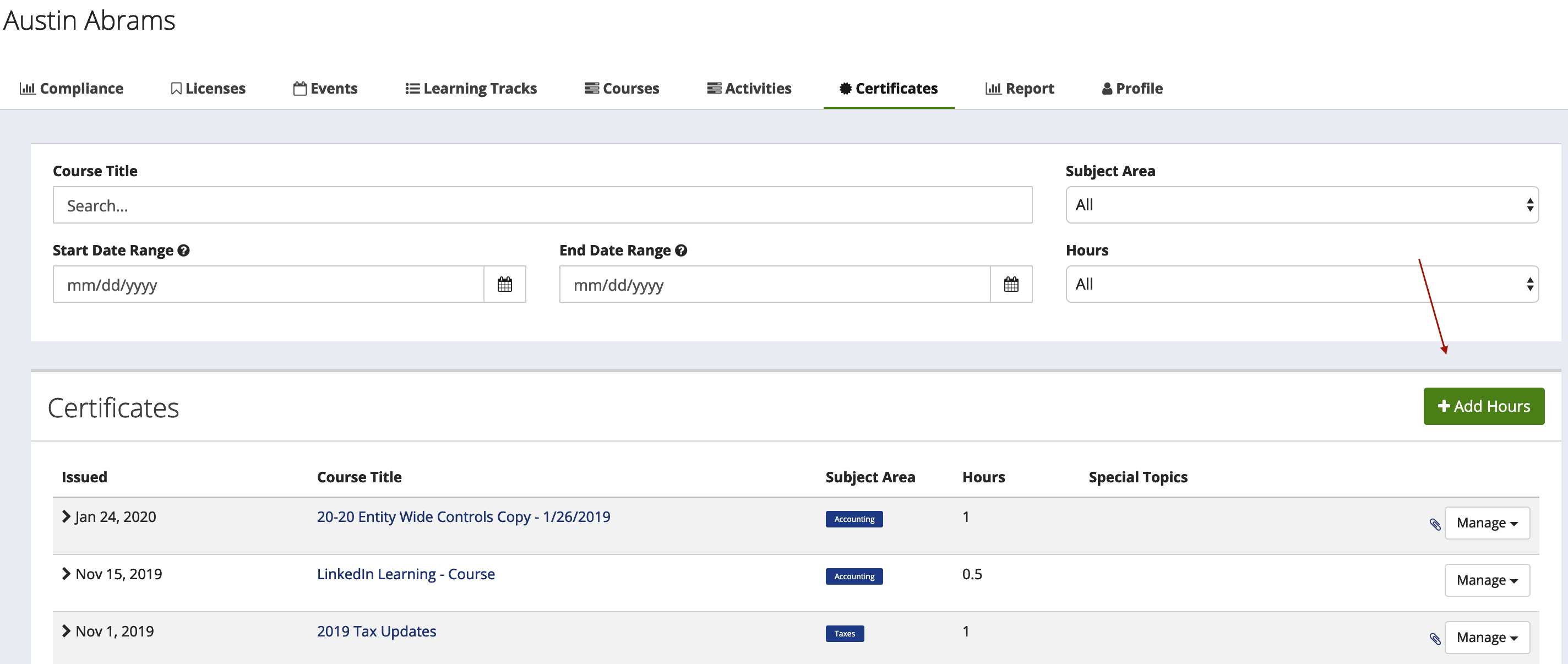 3. We recommend uploading the PDF certificate first so you can easily copy and paste the information into the required fields. In order copy and paste the data from the file and to see a preview image of your certificate, please make sure that your certificate is in PDF format.
4. Copy and paste or fill in the required course information.

Course Title

Delivery method-- Entering the delivery method helps Prolaera determine the category limitations set by the jurisdictions as there may be limits on how many self-study, instruction, and/or publication hours may qualify within a given reporting period.


Completion date--

The completion date will determine which reporting periods the course will apply to

The location and sponsor name are not required for Prolaera to calculate the credits but are great to include for completeness, particularly for reporting purposes.
Credit information
Below the file preview is where you'll enter credit information. Enter the number of credits earned in the Hours field, the subject area of the course, and any or all applicable special topics the course may apply to beyond the hardcoded subjects. If the course covers multiple topics, click the Add button to enter additional lines as needed.

Sponsor
The last step of a certificate entry is adding the Sponsor ID number(s). This is generally found on the Certificate of Completion or located on the provider's website. This will determine how the course applies under the jurisdiction.
Some regulating bodies require the sponsor be approved by NASBA or with the State for the course to qualify. If no sponsor information is entered, the course may not apply toward the compliance requirement.
Verify requirements for jurisdictions at the NASBA website: https://www.nasbaregistry.org/cpe-requirements
Once all fields have been filled out, click the Submit button for the hours to be added to the user's compliance records.