A Blended Learning course is an integrated learning format that adds flexibility to allow the use of a wide range of activities in your program. These varied delivery methods include Group Live, Group Internet Based, Self Study, or Nano Learning (including lectures, discussion, guided practice, games, case studies, and simulation). The combined options for learning lead to a better and deeper learning experience and Prolaera helps you accomplish this in a few clicks.

Note: Please visit NASBA's application process page for more guidance on creating your first Preliminary Instructional Design Review if you're in the process of registering for this type of license or just getting familiar with the process.

To create your blended learning course follow these steps:
Create an Event
1. Under your Admin panel, click Events Manager then Create Event at the top right corner of the page

2. A drop-down menu will appear. Click Blended Learning (Group-Internet) to view your existing Group-Internet courses.
3. In the next pop-up window, click Select next to the group-internet course you wish to schedule.
TIP: Don't see the course you're looking for? Double-check that the Delivery Method for the course is set to Group-Live or Group-Internet/Webinar and that the course is active in the Course Manager.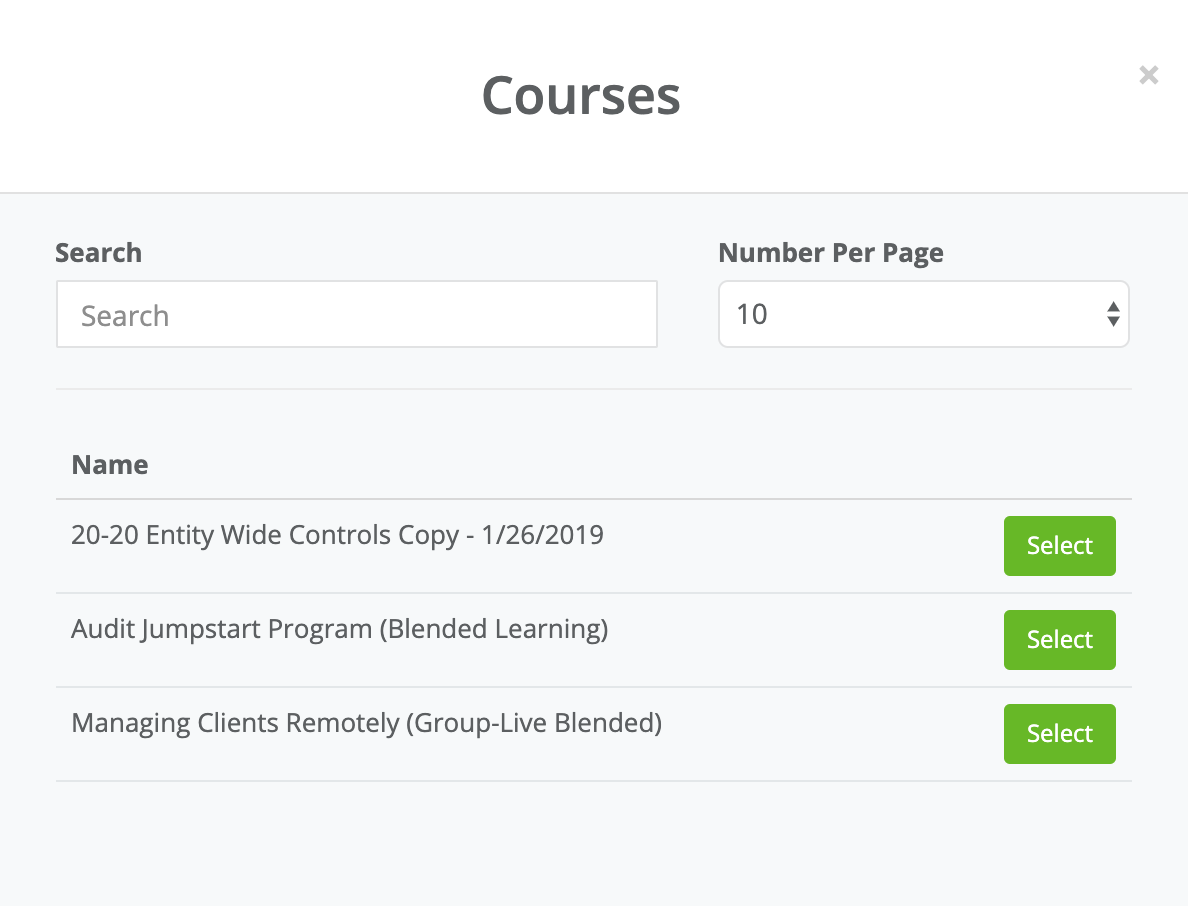 4. The course will then open for editing. The following sections will be pre-filled as the event pulls in all the information you've entered in the course editor step:
Course name
Course Author
Evaluation Template
Sponsor
Delivery Method
Course Level
Target Audience
Prerequisites
Objectives
Advance Preparation
Course Summary
Instructor (s)
Credit Information
Uploaded Materials
Make necessary edits or complete any missing information.
5. Pre-Work and Post-Work
Click the Add button to select the required activity for Pre-work and Post-work for this course. Refer to the Activities menu image below.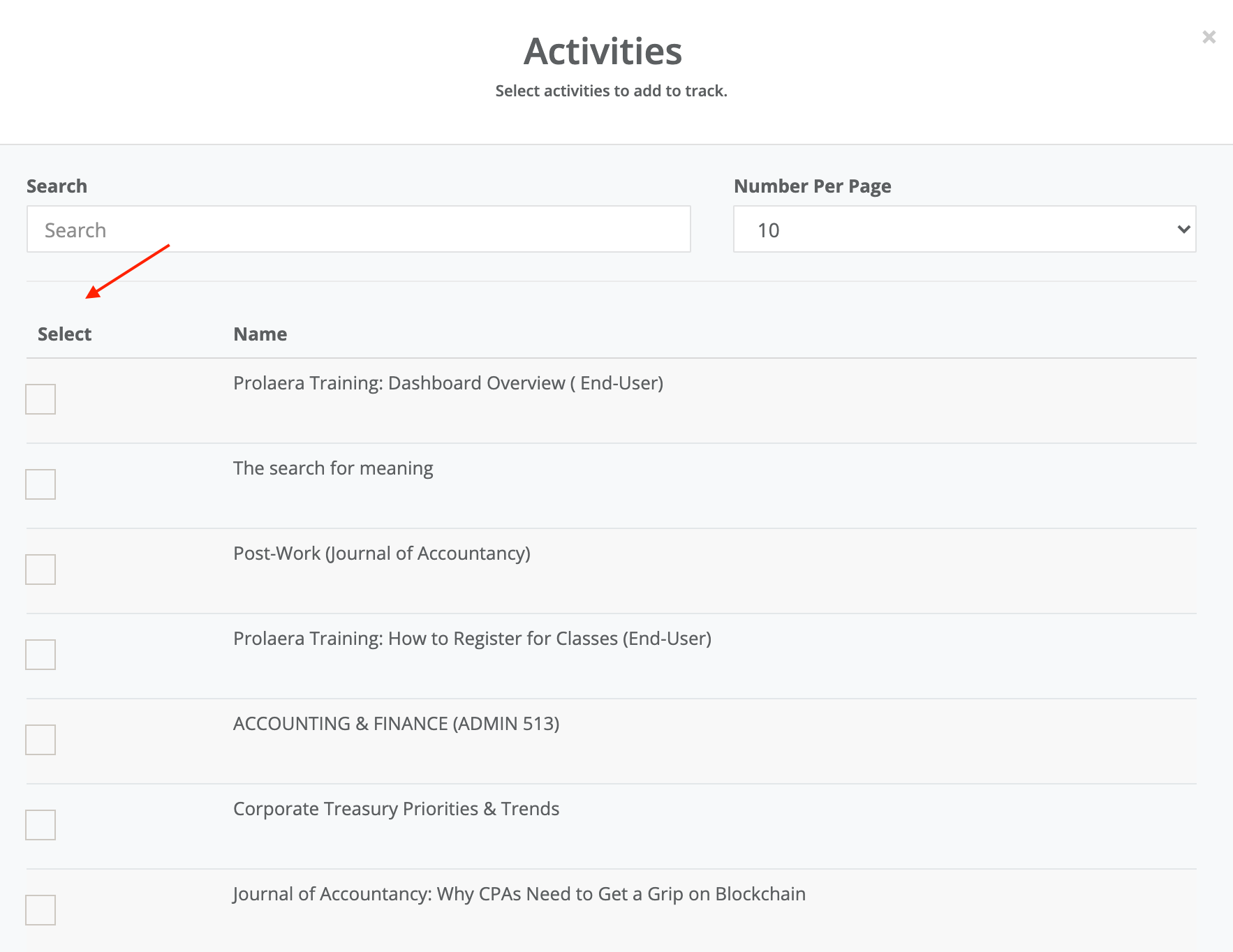 Click the Add button again to insert additional activities.
Click the Remove button to delete any assignment.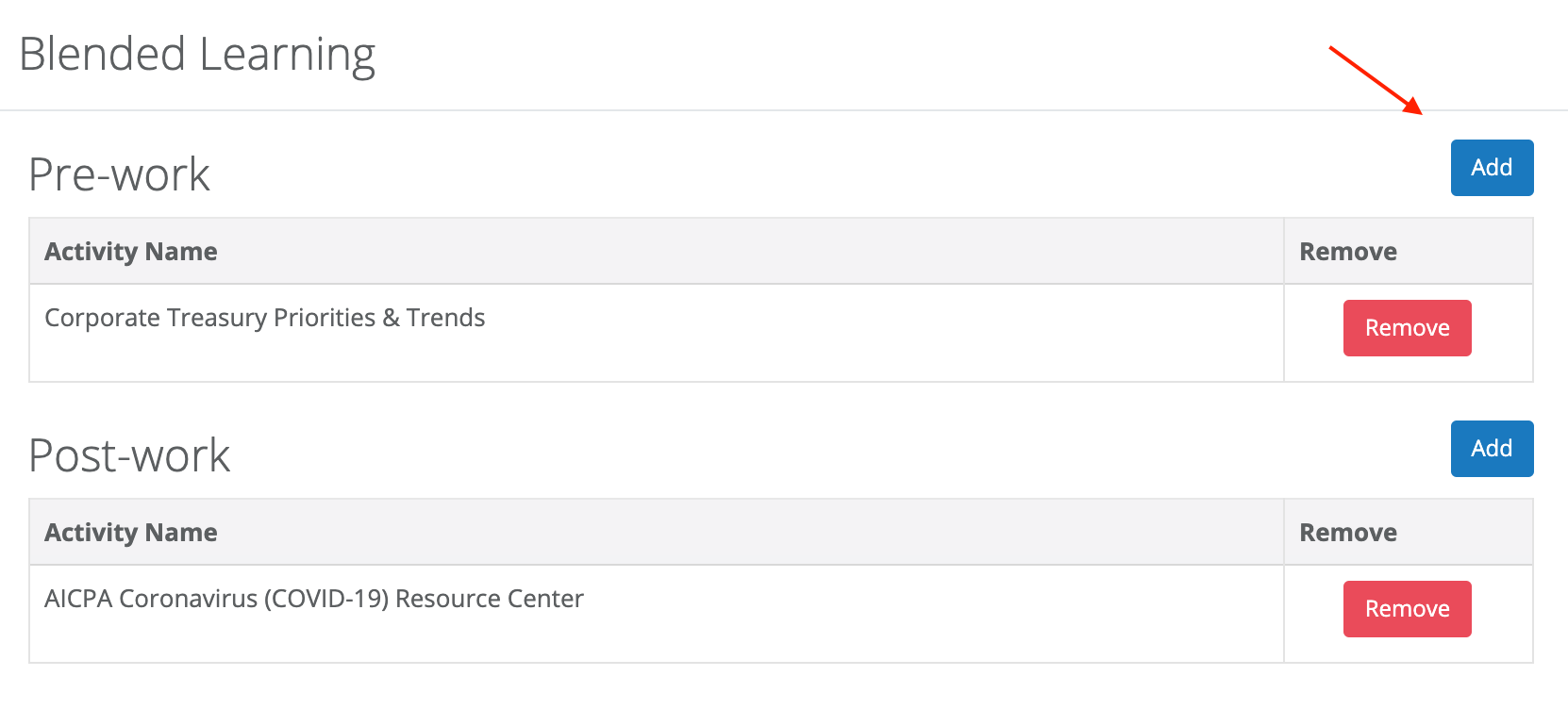 6. Select your scheduled Webinar session using either a GoToWebinar, Webex, or Zoom account.
Please note: Sessions will only be listed if your video conferencing platform has been configured in Prolaera. Please contact us or refer to the articles below and we'll help you configure your account with Prolaera to allow you to begin hosting webinar events. Choose Other to enter your webinar link if you haven't integrated your video conferencing tool with Prolaera yet.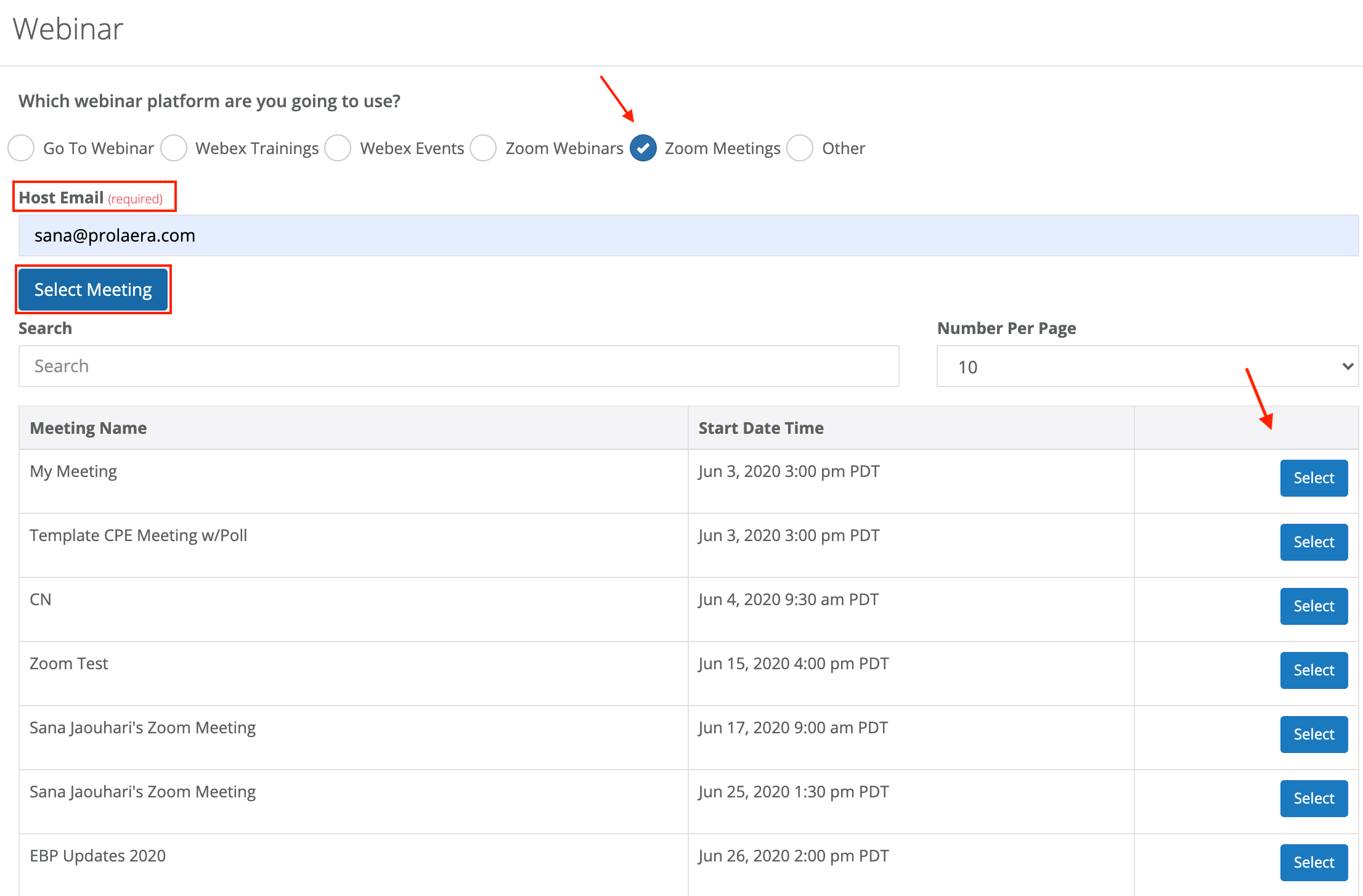 7. Set up the event's Start date/time and End date/time.

8. Set Up a Waitlist:
The waitlist feature is embedded under Locations. Selecting one of the following options will be set as a default for all the locations where the event is offered:
Automatic > Will immediately move the first waitlisted user to the registration's list when a spot becomes available and the user will receive a calendar notification.

Manual > Will allow you to move waitlisted users manually and in the order of your choice.

Off > Turning off this feature will prevent users from registering when the event is full.
9. Payment
Set up your payment method, price, and payment terms.

Registration
Now that you've scheduled your Group-Internet event, you may choose to invite or directly register your attendees.
1. Add Participants
To add attendees to an event, either click:

Invitations to send an event notification (Participants will have to register on their end), or,
Registrations to immediately save their seat and send them a calendar appointment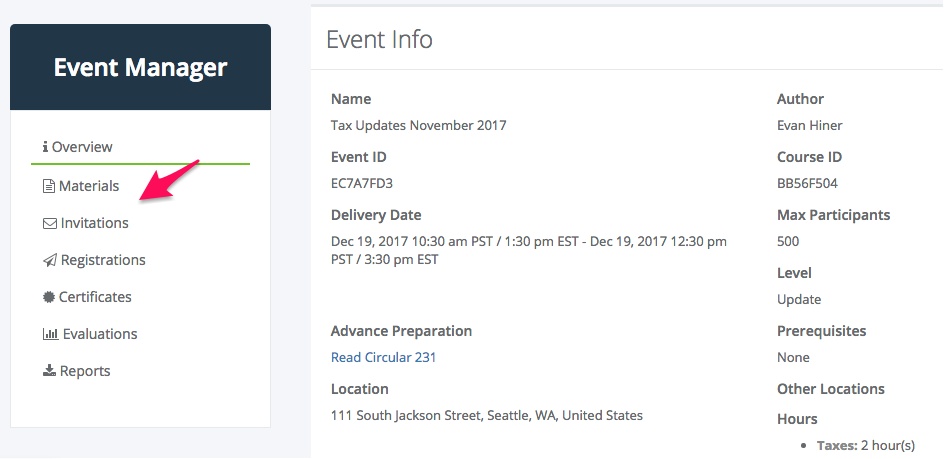 Click +MyFirm to select users within your firm. You may filter by department, level, location, etc.
Select your users, then click Add Selected.
or
To invite/register multiple firm members or your clients, click Browse to locate the prepared .csv file on your computer, then click Upload to pull in participant information. Please note: The .csv file must be in the following format with column headers: 'email', 'first', last'.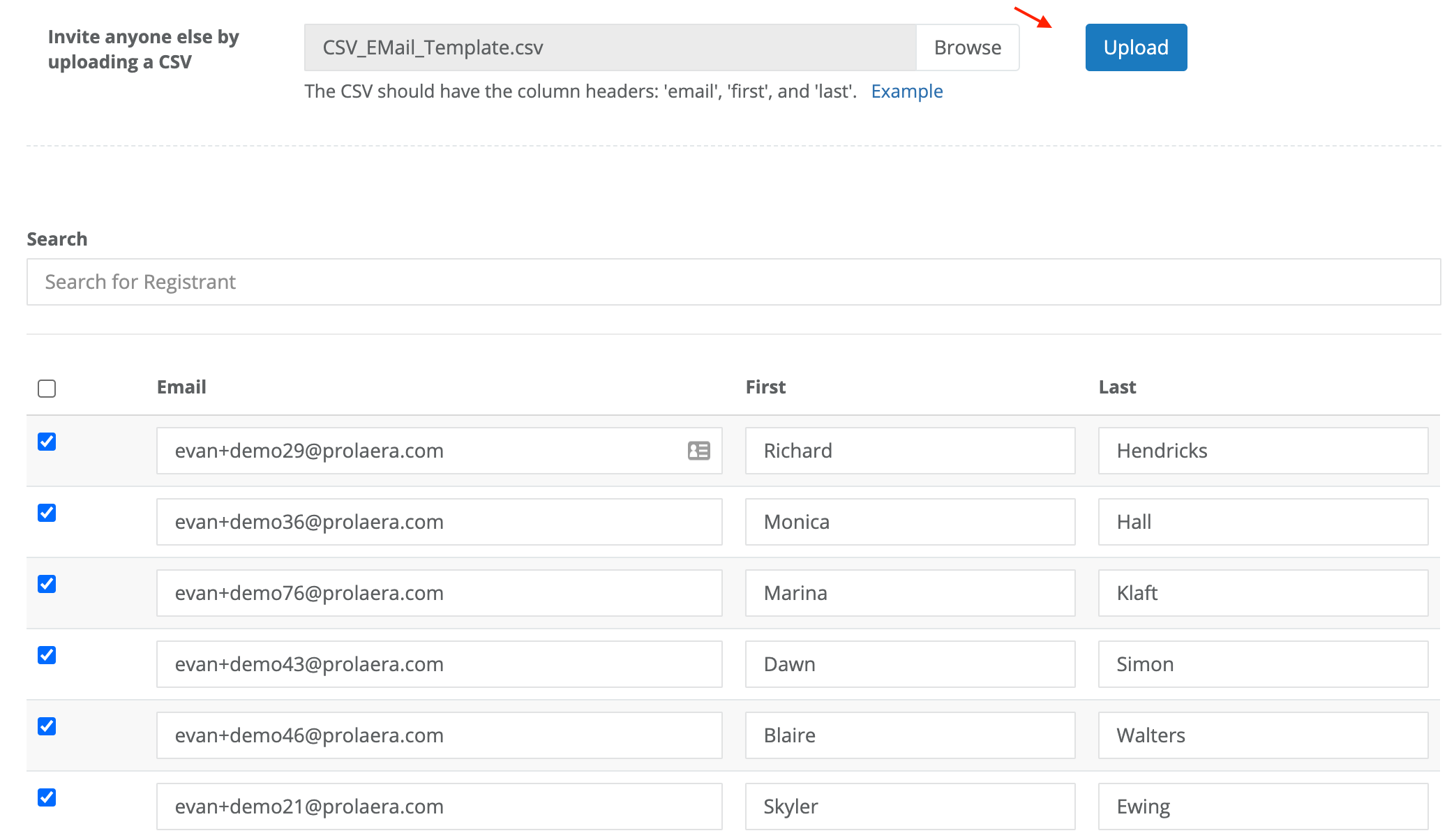 When the file is uploaded, the participants will be listed with a checkmark next to each row. After selecting all or specific users to invite, click Send Invitations. Users will be able to accept or decline the invitation right from the invitation email.
2. To directly register attendees, click Registrations on the left side menu and select your users (the same method in the invite users step above), then click Send Registrations. Registrants will then receive a calendar invitation email.
Please note: If for any reason you do not wish to send email notifications to your registrants, please check the Suppress Emails box as shown below: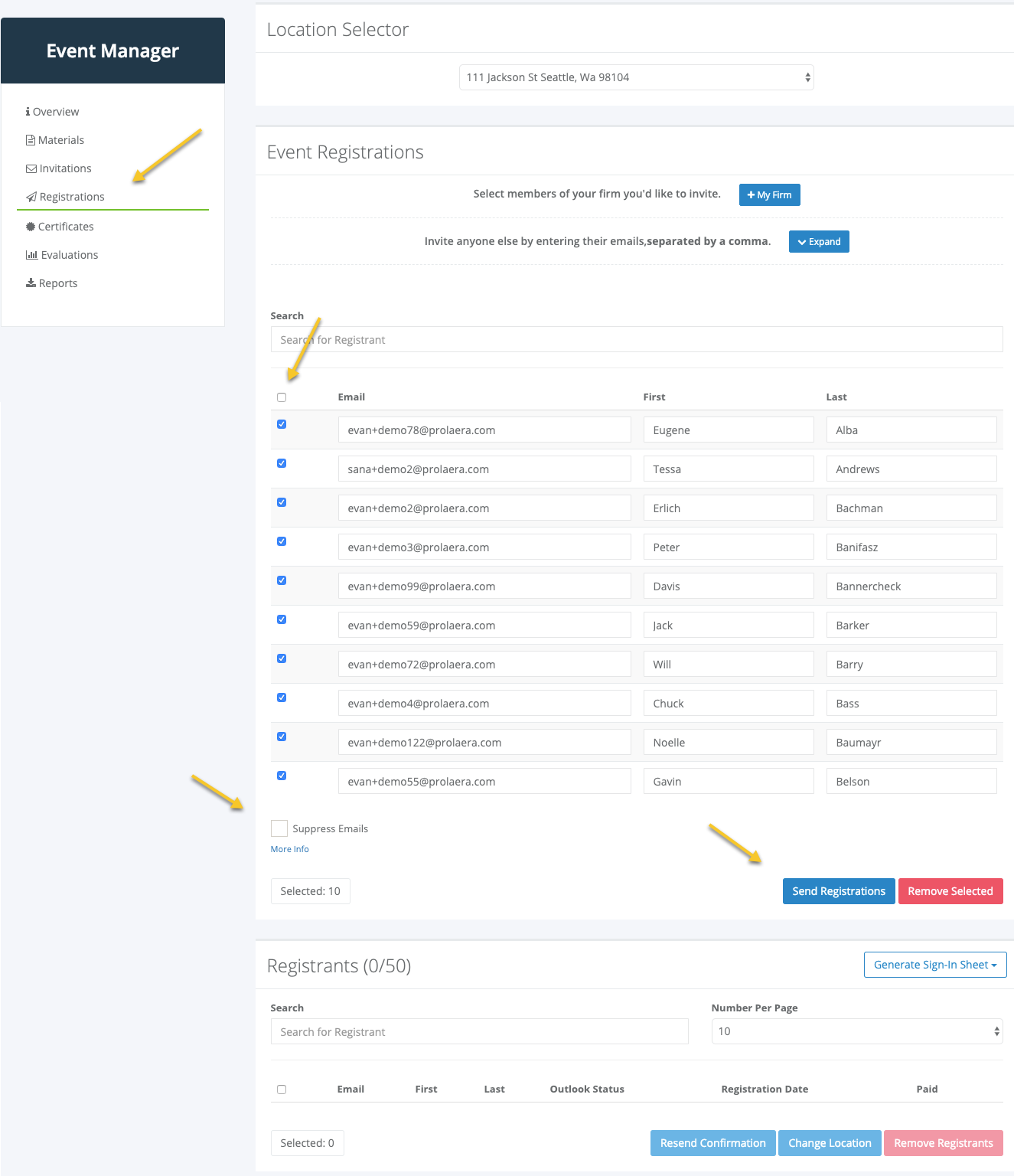 Note: You may customize the invitation and registration emails in Settings > Email Settings.
Post Event
1. Issue certificates for a completed event. Refer to this article for instructions.
2. Send evaluations for your attendees to fill out prior to issuing credit if needed. The attendee will then receive an email notification to fill out their evaluation.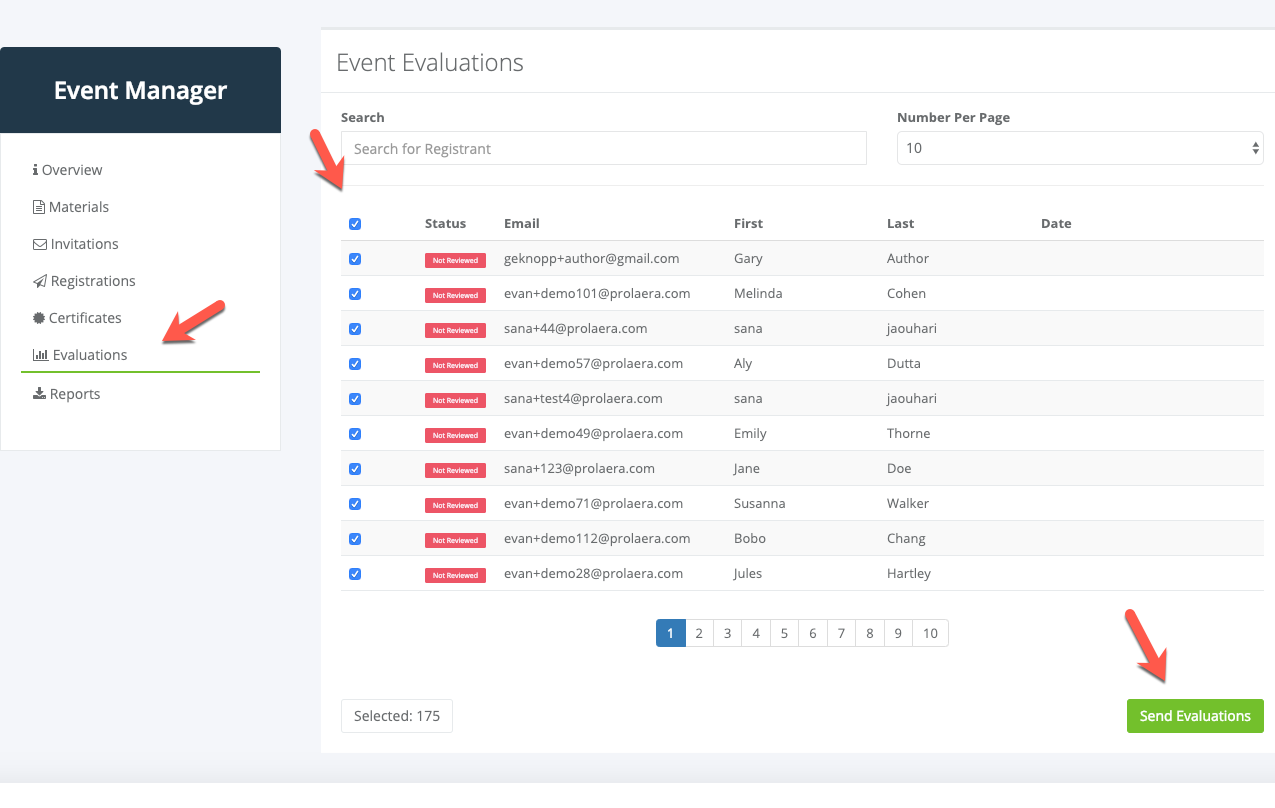 3. Last but not least, you may view and download event reports. Refer to this article for instructions on event reporting.