Depending on the regulator and state jurisdiction, certificate entries may require additional information for CPE credits to apply to user licenses. Administrators may need to approve the entry and can help troubleshoot common discrepancies.
1. Login to your company Prolaera account. In the Admin section of the left navigation pane, select User Manager, then search for the user with unapplied credit hours.

2. Select the user and navigate to the Report tab, then select the license and reporting cycle, for example, Washington - CPA: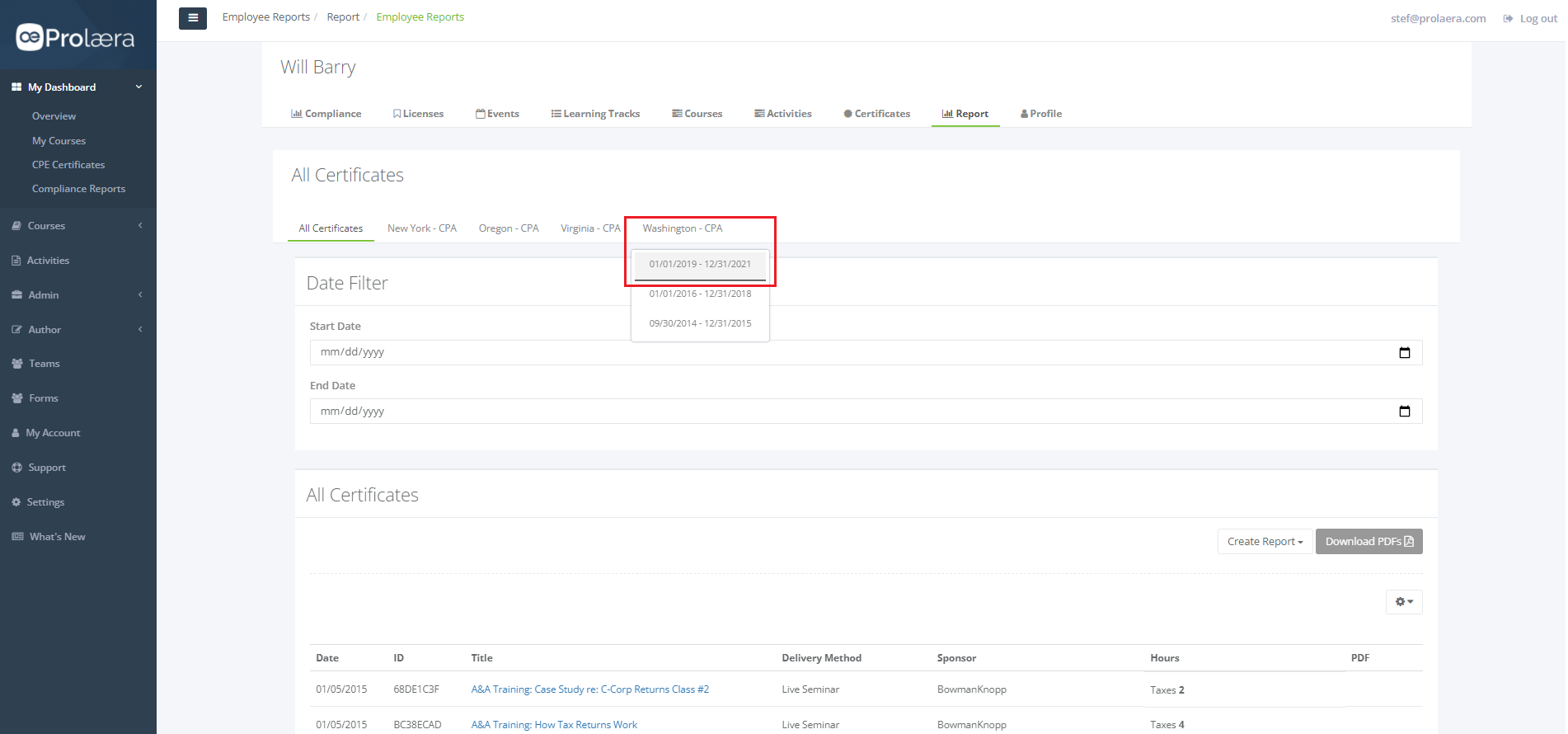 3. Scroll to the bottom of the screen to the Unapplied Certificate Tracking section where you will see any unapplied certificates listed with an "x" marking the error category.

Tooltip descriptions and diagnostics:
Admin Approval: Certificate was approved by admin.

If your organization requires certificate approval for user-added external certificates, CPE hours will not be applied to the total hours earned until it has been approved by an admin in the Certificate Manager section.

Credit: Total credit amount is less than min required.

Some regulators require only full credit or partial credit after the first full credit has been earned.

Date: Certificate falls between cycle start and end dates.

For a course to qualify, it must be completed within the reporting cycle date parameters.

Industry: Subject Area is from wrong industry.

Some licenses will only accept credit for specific industry-related topics.

Sponsor: More information is needed for certificate sponsors.

Some regulating bodies require course sponsors to be pre-approved to provide CPE credit that meets renewal requirements. These pre-approved providers are identified with a sponsor ID number.
Please refer to this article for more information on how to correct some of the more common credit coding issues.