Conferences i/o, or CNF for short, is a web-based audience engagement tool used for polling, attendance tracking, program evaluation, and more. You may now integrate multiple CNF sessions to your Group-Live, Group-Internet / Webinar, or Hybrid events in Prolaera, and sync/view the results when the event has concluded.
Simply put, this tool will allow you to sync sign-in/out times and poll data from your in-person, virtual, or hybrid CNF sessions right to the "Certificates" page of your Prolaera event!
Configure your Conferences I/O in Prolaera
Refer to the articles below for instructions on how to create the various events:
Once your event has been created in Prolaera, you are ready to integrate the prepared CNF session(s).
Add the Integration
1. From the left side panel, go to Admin > Event Manager and search for your event. Click the Manage dropdown > Manage to edit your event. Next, navigate to the Integrations option and click Add Integration.

2. Select the Conferences.io integration button to show all available sessions. Search or simply click Add to integrate the session into your event. You may add as many sessions to your event as you like.
Please note: CNF sessions will only be listed if they have been created in your account. If you have not yet created these in your Conferences i/o account, here is a quick step-by-step guide to creating your sessions.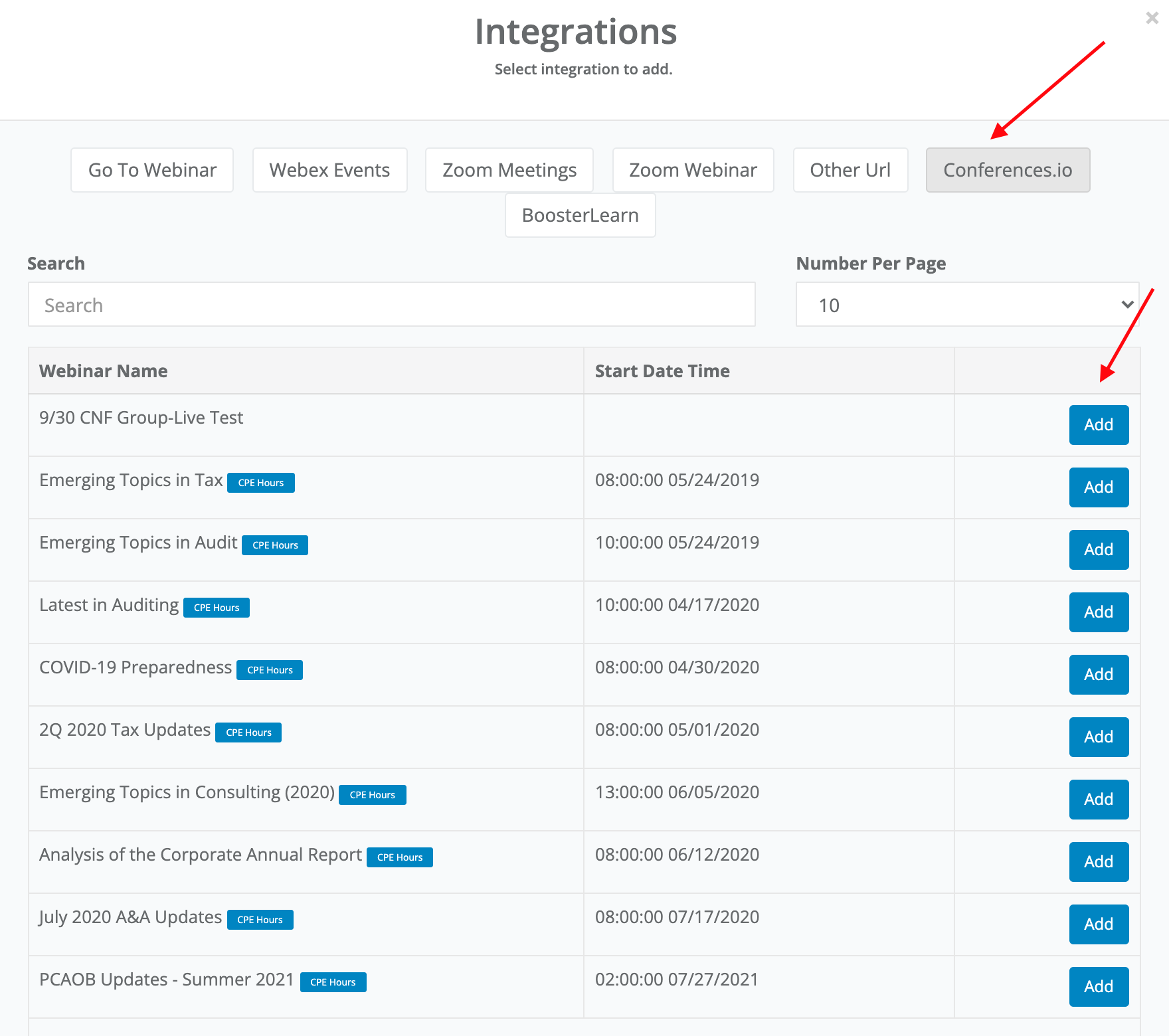 3. When added, the sessions will appear below. The sessions colored green indicate that the duration and attendees' data have been pulled in. If gray, attendees haven't been added to the session yet.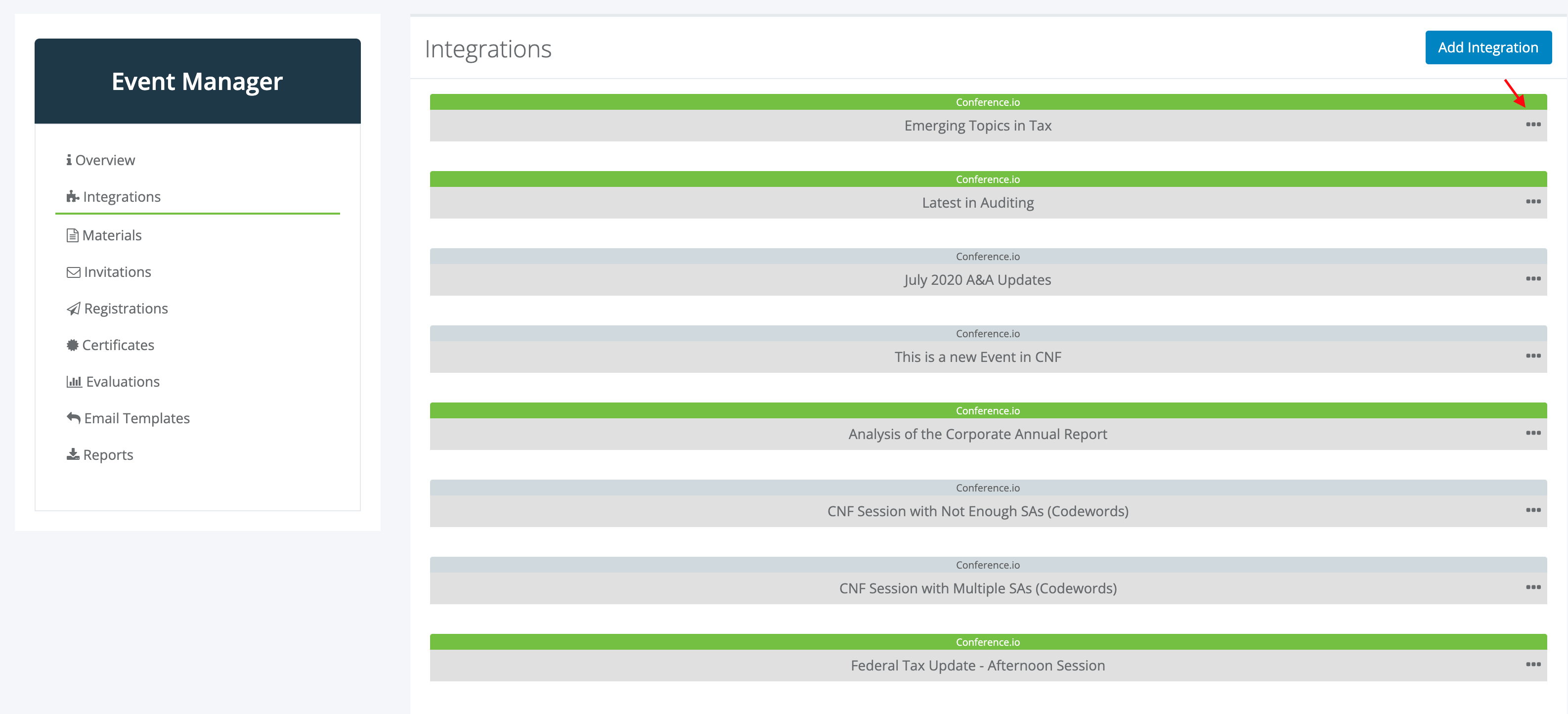 You may add attendees in advance using either CNF or Prolaera, or have the system pull in attendee data during post-session sync. Prior to your program, please review these articles on instructing participants on how to use the Conferences i/o tool during the event:
Add attendees in Conferences I/O
You may add session attendees ahead of time in the admin area of your Conferences i/o app. Having this list pre-loaded in Session Kiosk will allow you to quickly check-in attendees upon arrival. Refer to this support article on how to Upload Attendees in Kiosk Mode
You can use any spreadsheet with attendee information and then map that attendee data into Conferences i/o. The attendee data will pull into Prolaera during the session. Please note: Be sure the box for Attendance Tracking is checked in the session editor.
Add attendees in Prolaera
Another option to add attendees is from within your Prolaera account, by either sending event invitations or registering your participants. Please visit the links below to learn more.
Adjust Credit
After your event has ended and the sessions have synced, review and adjust credit as needed before issuing certificates.
1. Navigate to the Certificates section.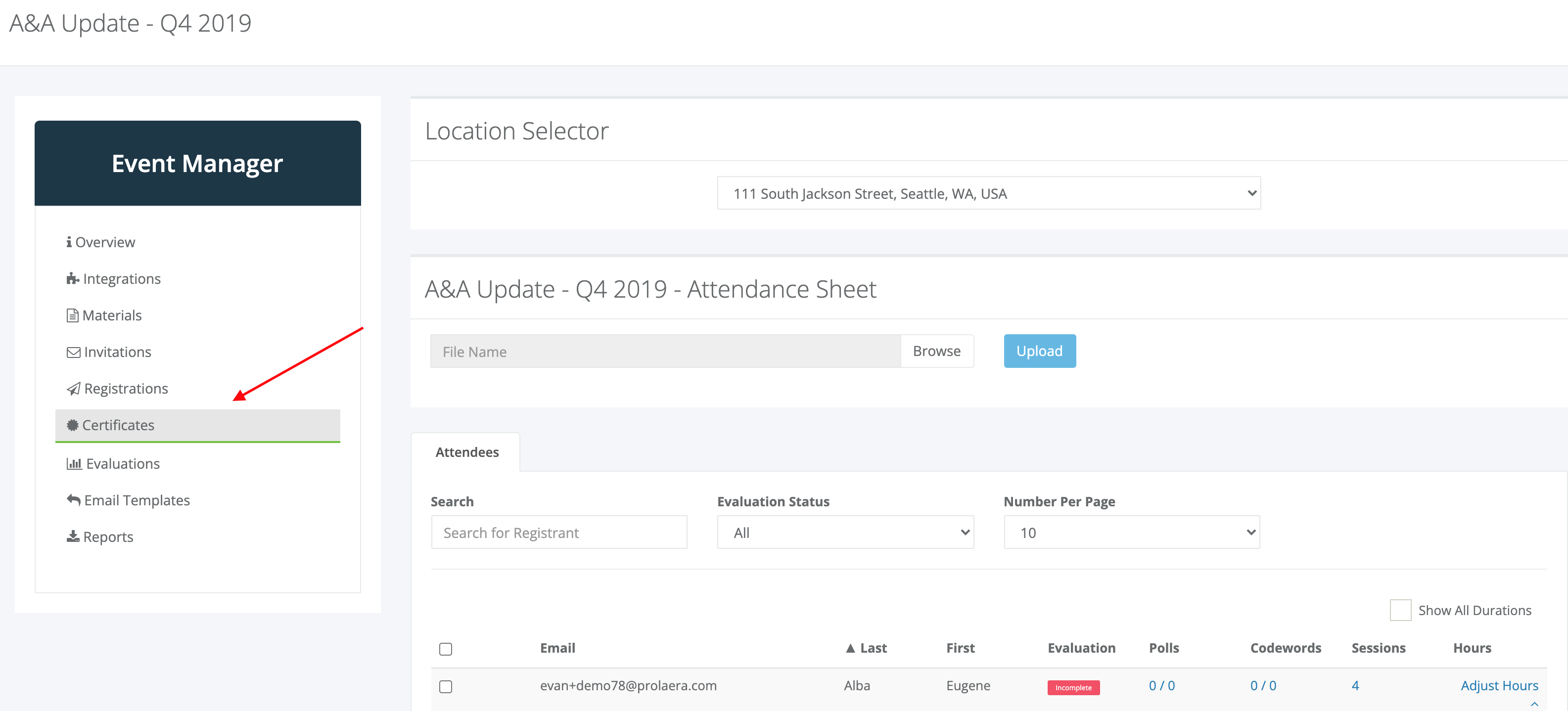 2. Review the new data that Prolaera has pulled in located below the Polls, Codewords, and Sessions headers.

3. Check the Show All Durations box to see each session's details.

Adjusting credit in Prolaera vs Conferences i/o
In Prolaera
Adjust hours individually as needed based on attendee participation data.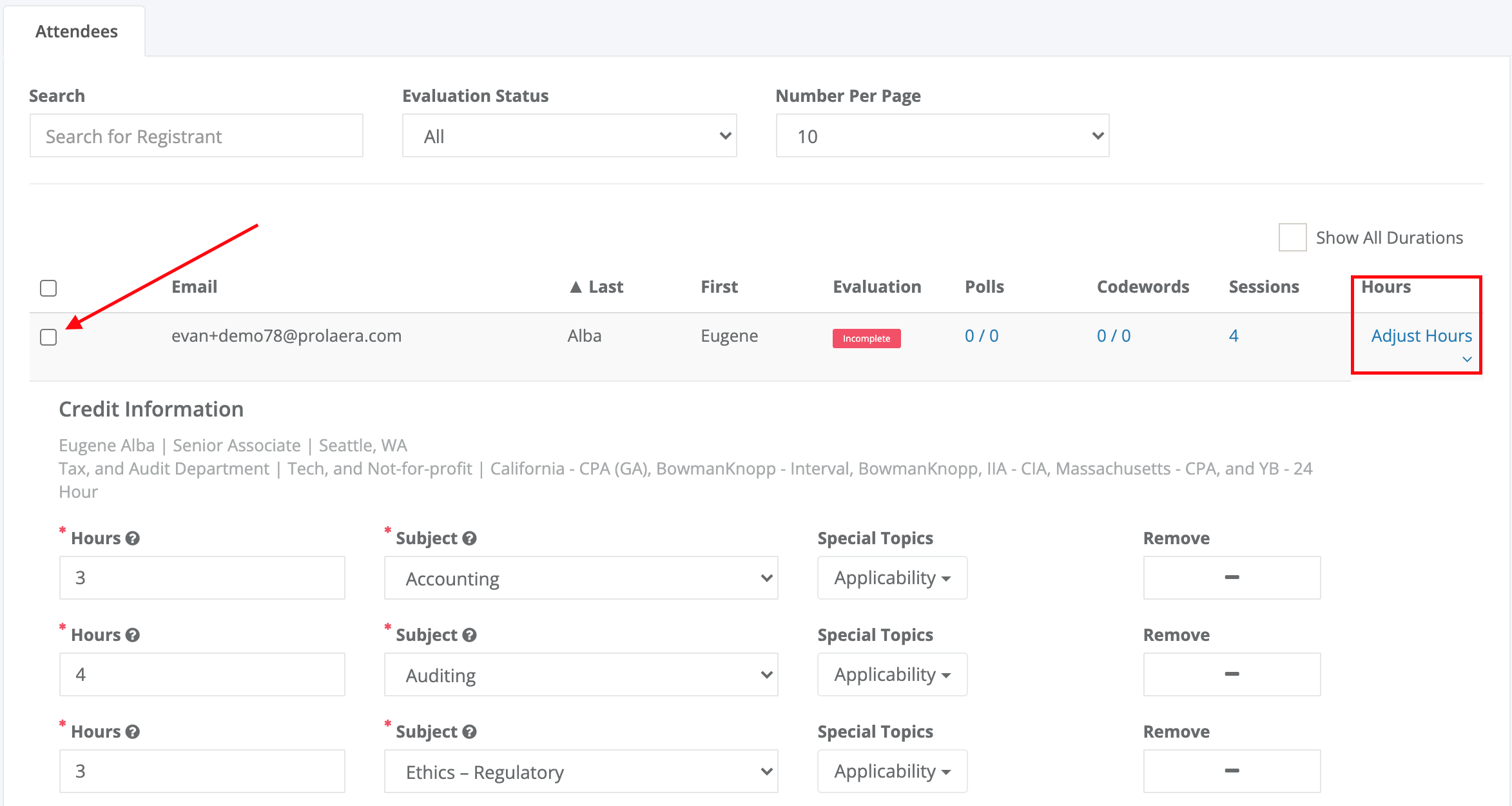 In Conferences i/o
You may also adjust credit automatically in CNF based on polling or codeword completions. The adjusted credit data will pull into Prolaera when synced.
Issue Certificates
First, you will need to sync the data from your CNF sessions. Check the box at the top to select all. You may also sync individually if desired.

Then click the

CNF Credits button

Option A: Click Reload + Sync
If credit for one or more sessions has been adjusted in Conferences i/o, the data will need to reload.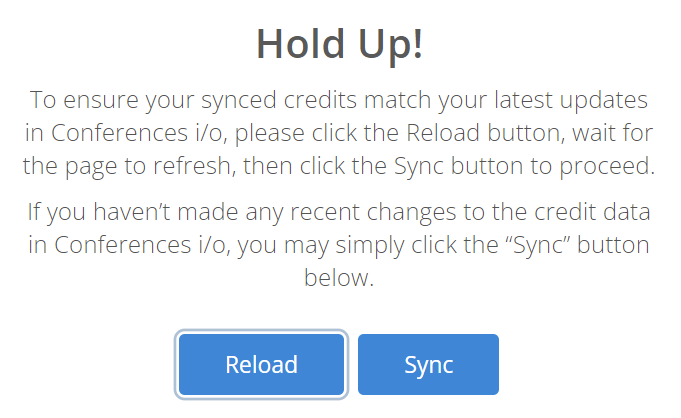 Click Reload. The page will refresh and update the adjusted values for all sessions from CNF to Prolaera. Select your attendees again, click the

CNF Credits button, and click Sync.
Option B: Click Sync
If no credit values have been updated in CNF, simply click Sync.
Confirmation!
The next dialog box will confirm the Reload and/or Sync; click OK.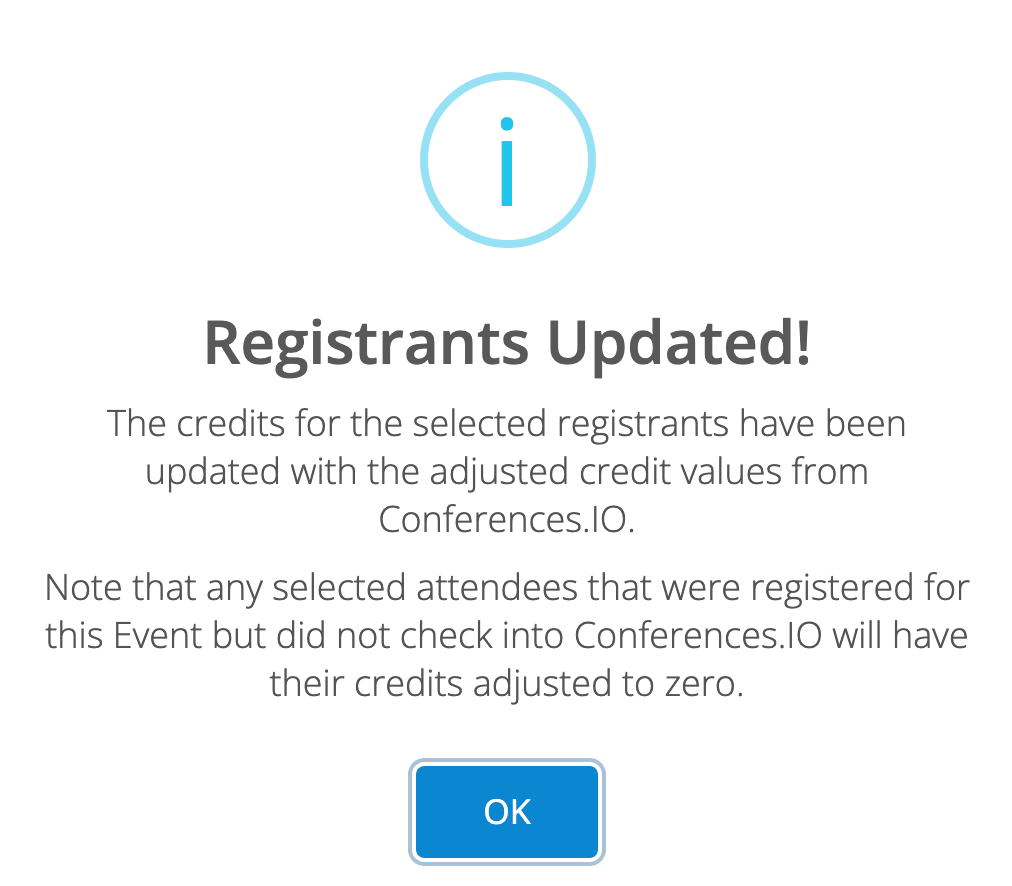 Click Submit to issue certificates
Finally, select the attendees and click Submit to issue certificates.