SCORM Cloud upload steps:
Your Prolaera Admin team may request Admin access to the SCORM Cloud application to be able to upload on demand course content on your own. When you have been given access, login to your account at https://cloud.scorm.com.
Click the +Add Content dropdown button in the top right corner and select the type of import.
Important: Change the 'Import to a specific App' dropdown to the firm name. The default app is the general SCORM Cloud database, which will upload to the parent realm/application and not be accessible to the firm.

Optional: Include a specific Course ID in the text box to easily identify your course. If no Course ID is entered, the system will automatically generate one.

Click Browse to locate your file. Refer to the course package import notes below to ensure the files will import correctly.


For example, if an AICC package is delivered in a .zip file containing other file types along with the AICC .zip file contents, you will want to unzip the "parent" folder before importing the inner .zip file.

Click Import Course

You may test and verify the course import by navigating to the Library, changing the Application dropdown to the firm name, then locating your course.

Click the "eye" icon for a quick sample of what your users will see then launching the course.
If nothing displays after a few seconds, you may need to enable browser cookies following these quick steps.
If you notice other issues with the Scorm course, we recommend contacting the vendor and looping in the Prolaera team as well.
You may also access a reporting page where you can select the type of report you'd like and change the date range as shown below: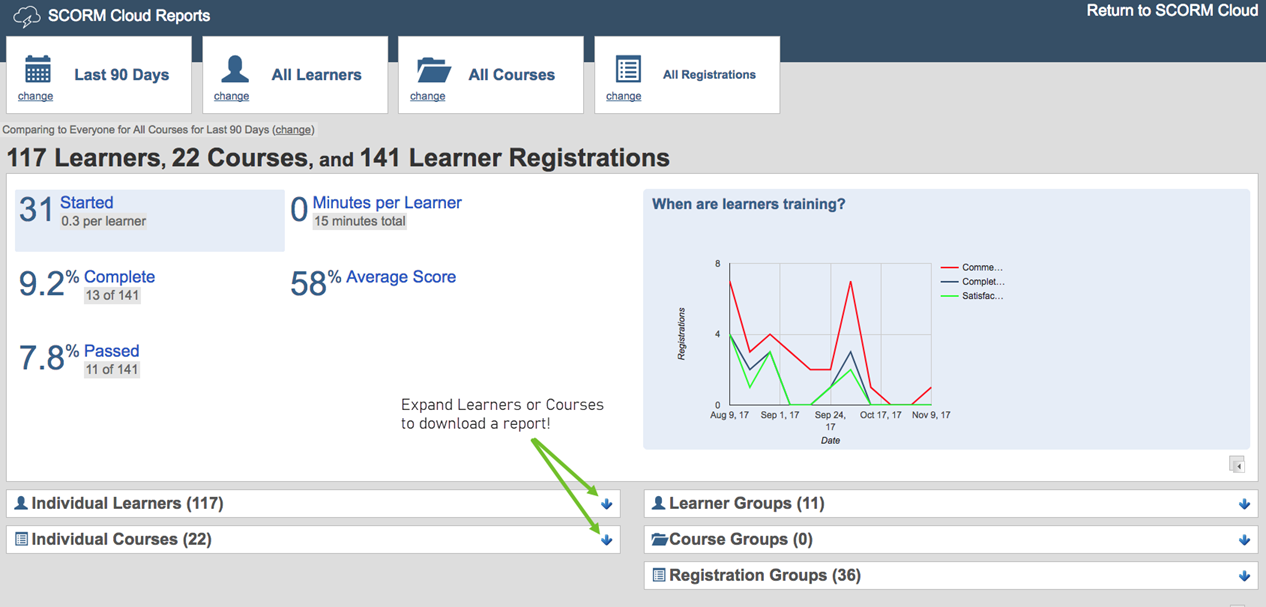 Click here for more information on Scorm Cloud reporting capabilities.
Once the SCORM package has been added, create the course in Prolaera:
Login to the app and navigate to Author>Course Editor
Click the green Add Course button in the top right
Check the box to auto-populate all options from Scorm, opening a small search text box
In the Scorm Search box, type the title and click Search.
Find and select your course, then click the green Add button.
Refer to these Course Creation Steps to add the course details and send off to be reviewed!
Register Users & Update Course Access
When the course has been Approved in Prolaera, go to Admin>Course Manager>Course Activation to register users. Locate your course by selecting SCORM from the Type dropdown, and further narrow results by using the search bar and filters.
Additional controls from the Course Activation page:
Limit or extend access via Invite Only, Firm Only, or Open Access.
Register Users to the course directly