One of the features in Prolaera is the ability to add integrations to your events, such as webinars and polling systems, to continue offering engaging, CPE-compliant content to your employees and clientele in a hybrid work environment. The newest version of this feature presents Event Managers with enhanced capabilities to make sure the synced attendance data goes to the right place.
Now, when participants register for an event via an external platform such as Zoom (without being pre-registered in Prolaera), Event Managers are presented with a Pending Registrations section on the registration page to review the registrations as they come in from the integration. This process of adding your registrants to Prolaera may be done before or after the event occurs.
Below are a few benefits to this new feature:
This step gives Admin users full control in the registration list to validate account info and correct typos in name or email address.
You may also add brand-new users to the company Prolaera account who have attended an event without an existing Prolaera account.
Returning clients and existing Prolaera users not associated with the company will show in Existing Users tab.
Email notification is suppressed by default.
1. After creating your event in Prolaera and scheduling the third-party session in the applicable external account, add the integration(s) to your event and click Submit. When offering courses in-person and virtually, you may set up hybrid events as Group-Live and will have the opportunity to register users in either location. For this example, we are using Webex.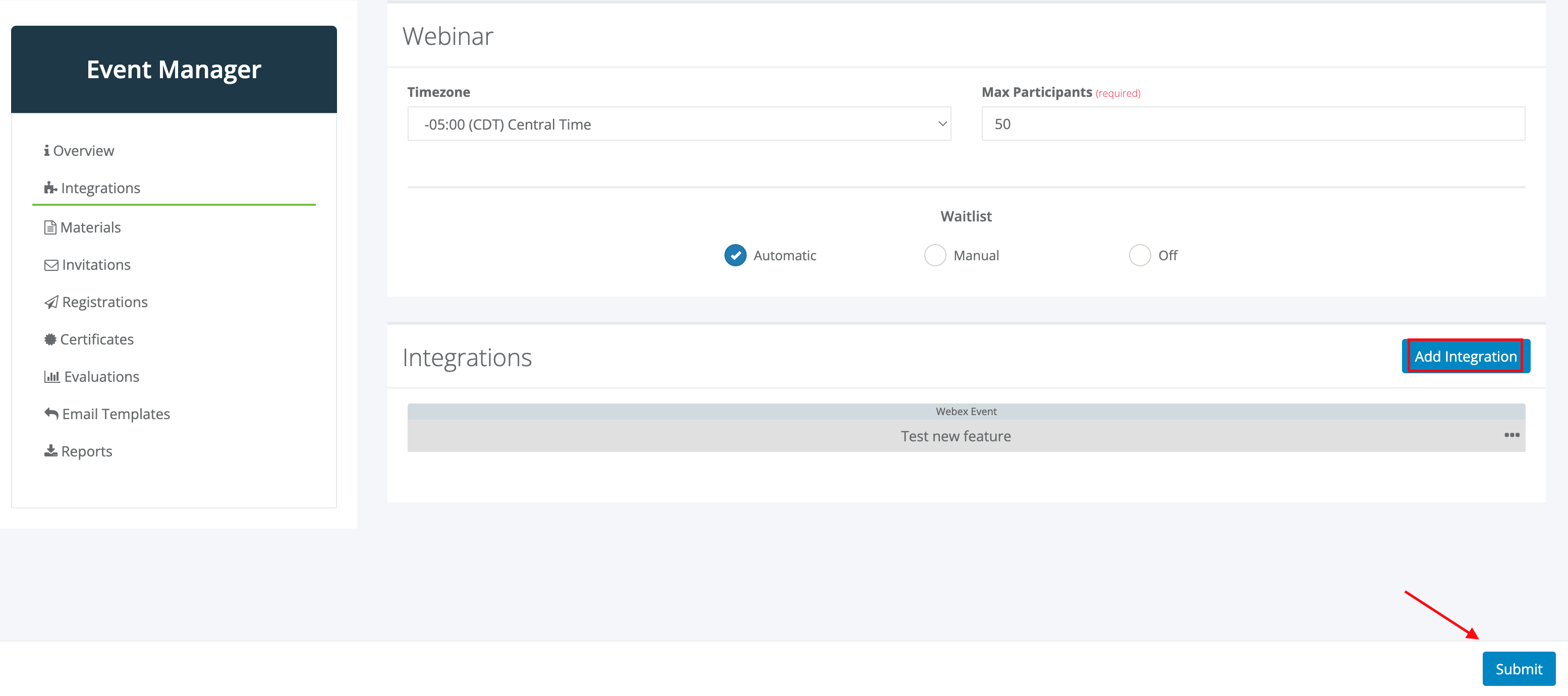 2. Heading over to the Registrations tab, you will now see a number bubble of the pending registrations.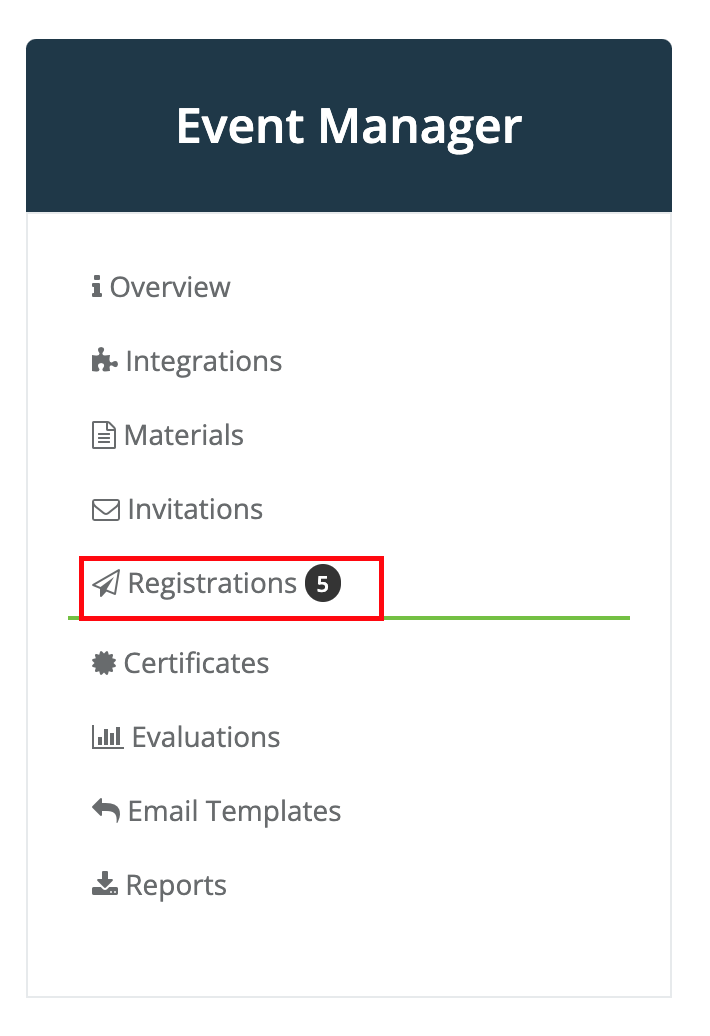 3. The Pending Registration panel will show two categories of users: those who have accounts in Prolaera, and those whose email addresses aren't recognized.
Existing Users refers to anyone with an existing Prolaera account inside or outside your organization. A few things to note at this point:
Existing users' email addresses are not editable since they are matched with an active account.

You may correct first and last names as needed.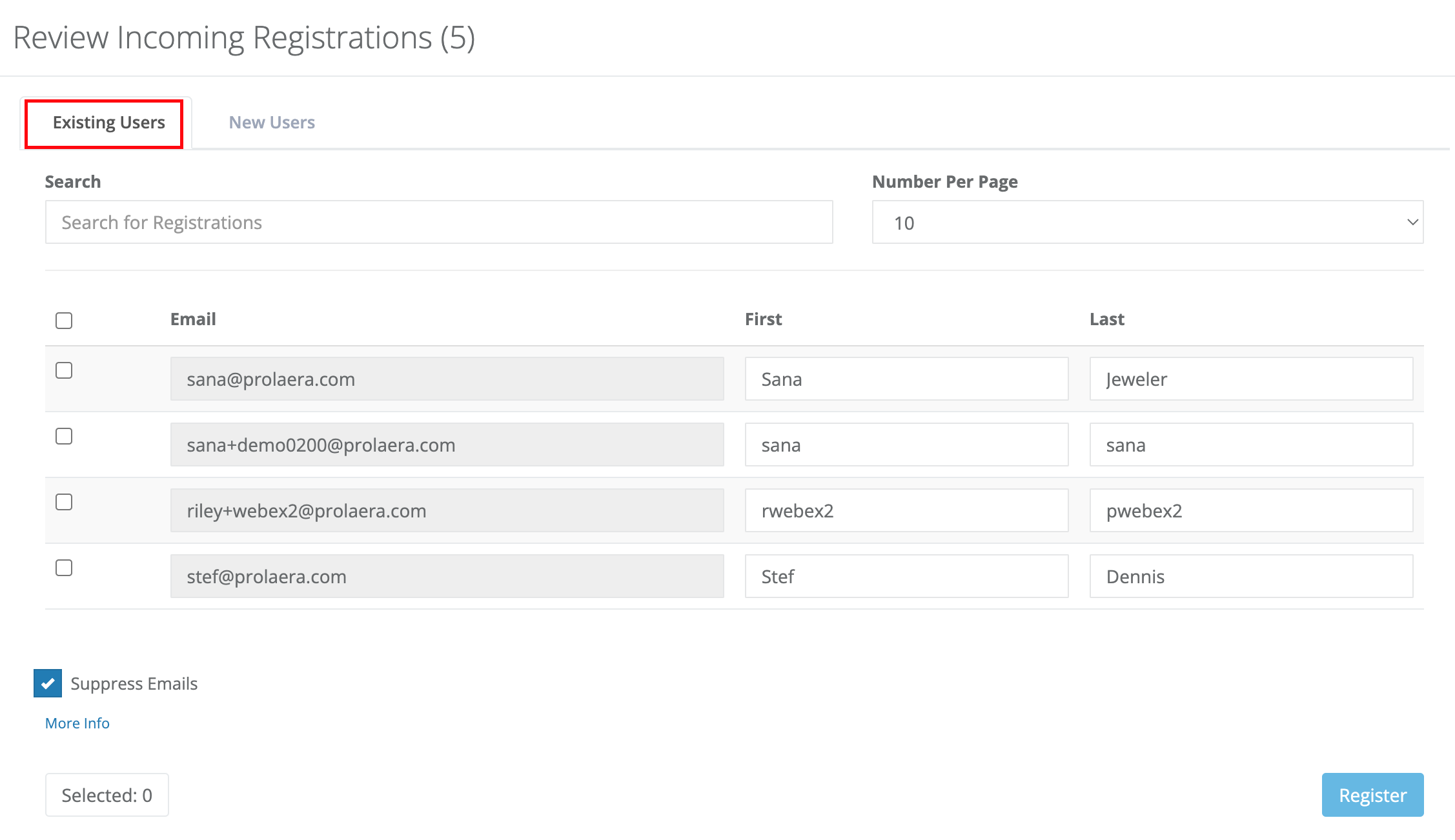 Select a few or the top check box to include all Existing Users and click Register to add the attendees to the event in Prolaera. You will then be prompted to confirm the location.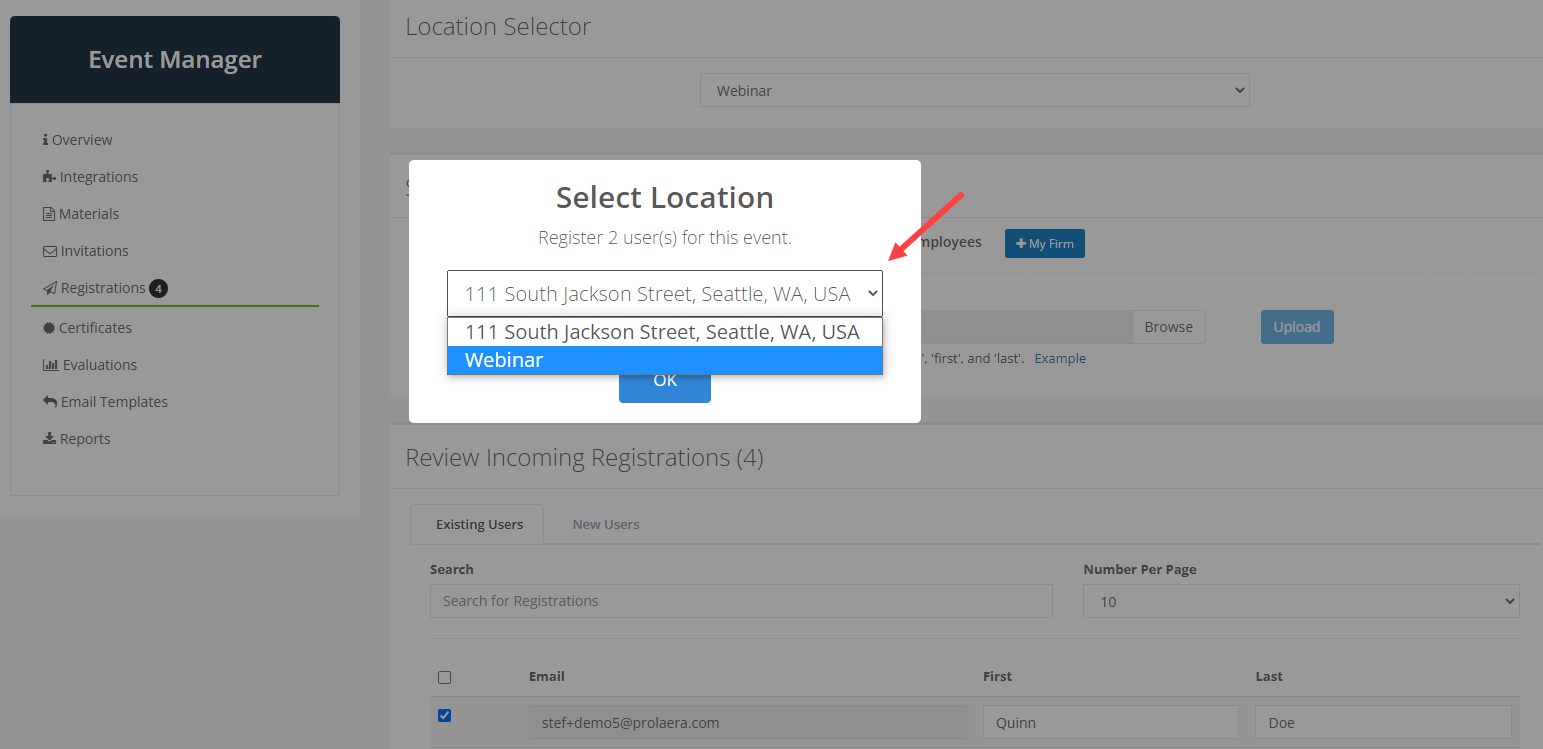 4. The New Users tab lists all registrants who don't yet have an account in Prolaera, whether internal to your company or external. Again, the email notification is suppressed by default and they won't get the registration calendar appointment from Prolaera, but will still receive a confirmation from the webinar platform if this is turned on.
Select users to interact with the two action buttons in this tab. Here you will have the ability to:
Update or correct emails, first and last names
Add users to your firm (user will have access to your firm)
Add the user as an external account (still in Prolaera but doesn't have access to your firm)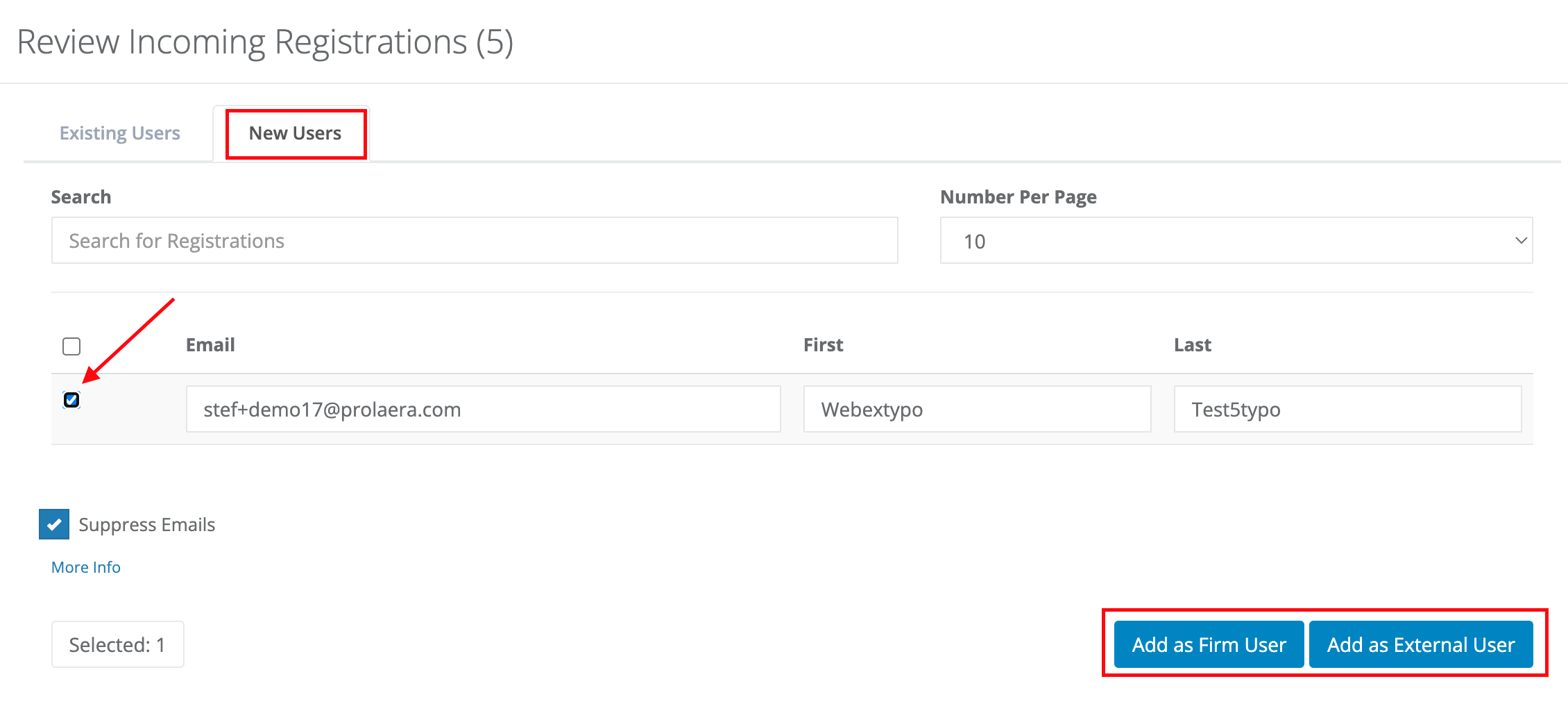 New Users Option 1: Add as Firm User
Selecting this option will open a dialog box with dropdown menu to confirm location.
Once confirmed, the User is registered for the event and added to your organization in Prolaera. Note: This action will give users full access to your company account and is not recommended for any non-employee users.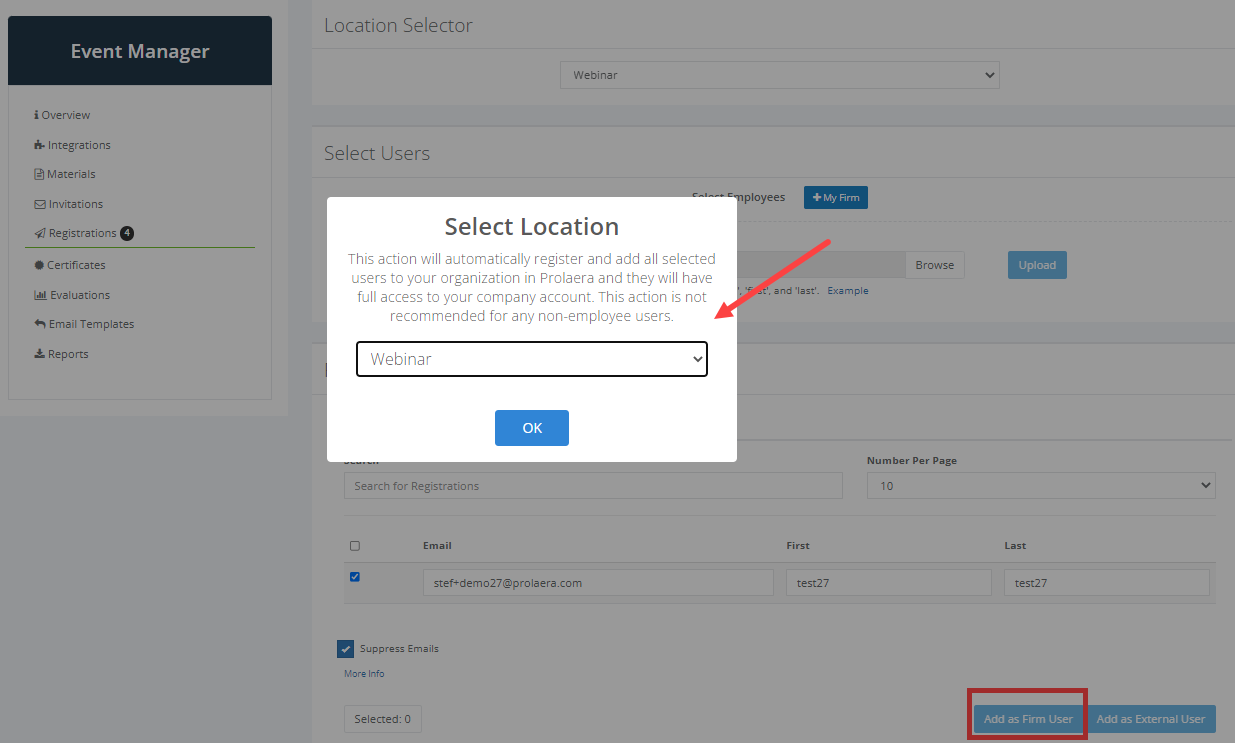 New Users Option 2: Add as External User
You will again be prompted to confirm the location for attendees
Once confirmed, this action will register users for the event and create standalone Prolaera accounts for the provided email addresses. These public users will not have access to your company account, but will be able to access their course history and certificates.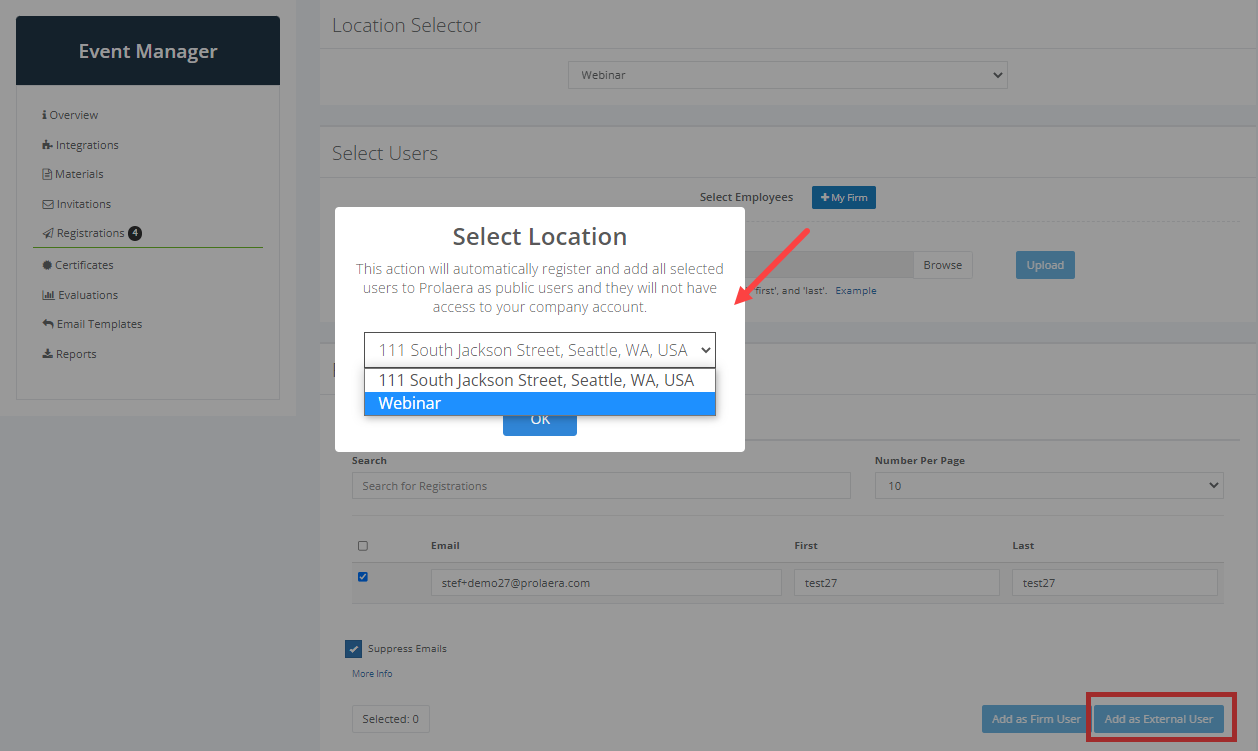 After you have reviewed and added all integrated registrants to Prolaera, you may choose to resend registration emails for participants to add details to their calendar.