Once you have configured your Zoom account with Prolaera, you'll be able to sync webinar session data with your Prolaera events. The data that is pulled into the Event Manager via the API includes attendance time and polling questions answered, meaning you can quickly sort and adjust the qualifying hours for each participant with verified attendance information.
Zoom Session
When setting up the session in your Zoom account (meeting or webinar), please be mindful of the following:
Make sure registration is set to required to enable the API to collect attendee data.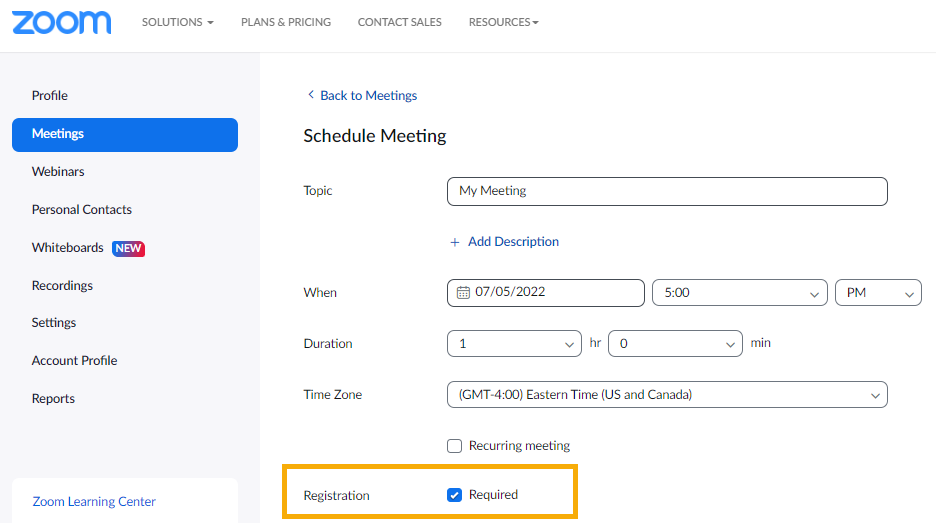 You may link the Zoom session with the Prolaera event anytime after it has been created in Zoom, even after the event has passed.
To integrate a meeting or webinar session, the host can be any user in your organization's Zoom account.
Please note: At this time we don't recommend using "Recurring meetings" with the integration as the API doesn't currently support this type of data.
Prolaera Event
To prepare a Prolaera event for a Zoom integration, you will follow the general steps for scheduling a Group-Live Event, with a few best practice changes. As a reminder, course creation is a two step process beginning with Creating a Parent Course, followed by scheduling your event.
Follow the steps outlined in the articles above to integrate your Zoom meeting with your Prolaera event, taking note of the reminders below:
When authoring your course, be sure to select Group-Internet / Webinar from the Delivery Method dropdown.
When you are ready to create the event, remember to again select Group-Internet / Webinar from the course type dropdown.
You'll walk through the usual steps to schedule your event, but instead of including a location, you will move to the Integrations Panel to add the session(s). Click Add Integration and select either Zoom Meetings or Zoom Webinars depending on how the session was setup.
Type the meeting/webinar host's email address to display scheduled sessions, then simply click the Add button next to the session to link in Prolaera. Click the Submit button and allow the app to refresh.
Refer to the following articles for additional support with integrated webinars: