When creating webinars events, you may happen upon situations where the webinar link or platform being used doesn't integrate with your company's portal or with Prolaera in general, as is the current case with Microsoft Teams. We'd strongly suggest leveraging Conferences i/o to handle polling in these cases, which does also have the benefit of handling live/in-person sign-ins/outs for hybrid sessions in addition to promoting participant engagement.
While Prolaera doesn't currently support integrating with the Teams platform, you may still want to provide your registrants with the link in advance for scheduling purposes and to ensure smooth sailing on the day of the event - and we have a solution to make that happen!
Admins can add a webinar URL link in the integration area of a Group-Internet/Webinar event following these steps:
After scheduling the event, you will reach a stopping point to add the integration link before managing registrations, etc.
Click Add Integration, then Other URL, and enter the webinar name and link as shown in the image below.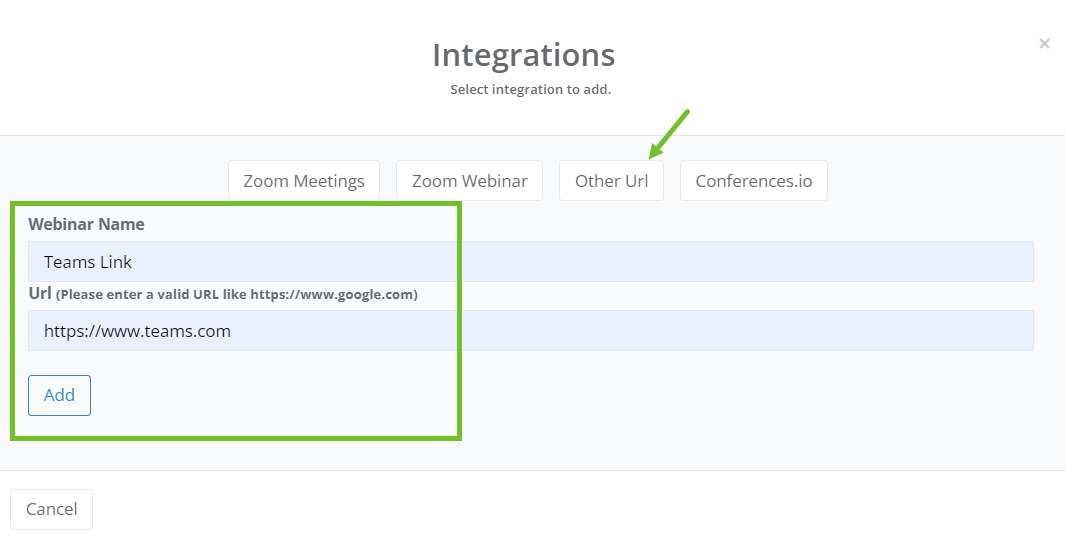 Please note that any webinar data or metrics for events added in this way will not sync with the event. However the link will be included in all registration emails (calendar appointment) for users to click and join the session.
Be sure to check out these related articles for additional online event tips and guidance: